Clint Eastwoodis a real institution – actor, director, mayor, family man and granite-faced defender of truth, justice and the American way, Clint Eastwood's career has spanned six decades…
He recently appeared on The Tonight Show with Jimmy Fallon to promote Sully, but part of the conversation turned to what sort of car he drives.
The interviewer said that many people probably imagined him driving a muscle car, but famous actor seems like an "AMX sort of guy". For those who may not know, AMC AMX is a two-seat GT-style sports car that was produced by American Motors Corporation for the 1968 through 1970 model years.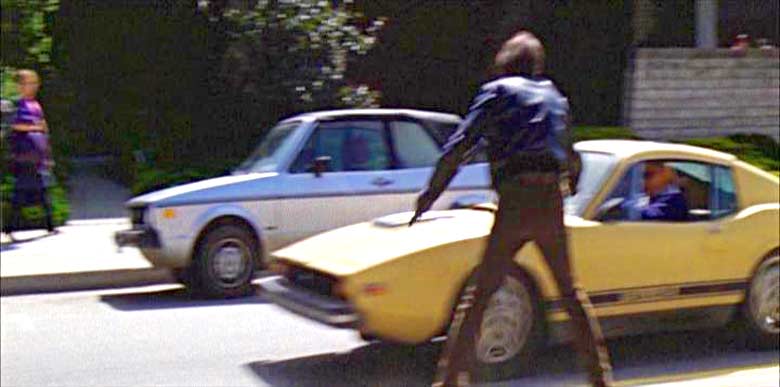 Saab's last U.S.-market sports car Saab Sonett III, and this car is very similar to the AMX cars. So we can conclude that this car is very close to Clint's taste – two seater sports car. But Eastwood doesn't drive a sports or muscle car. He drives a truck that's "faster than a Ferrari": The GMC Typhoon. Yet, at one point, he had a brief encounter with Saab Sonett.
In movie "Sudden Impact" (1983 – "Dirty" Harry Callahan film series) Saab Sonnet III appeared for a few seconds, nearly ramming our hero – Dirty Harry. Then, he hijacks a retirement bus to chase a Bad Guy on a three-wheel motorcycle… Small, but significant figure for Saab fans.
These 70's, this small sports car from Sweden was very impressive for the Americans. Here's an interesting observation from a review published in the magazine "Popular Mechanics" (1968):
Films aren't the only sexy imports from Sweden of late. The sleek, sinuous Saab Sonnet II has more curves than Ekberg (Anita), more kick than a shot of aquavit.

…

All in all, the Sonett is pretty close to a perfect sports car!