In the "Safety" section, we have a huge number of documented examples of Saab car safety, and this number is increasing day by day. Most often, owners of Saab cars who have survived traumatic experiences of traffic accidents in which they were literally saved by Saab cars (ie safety technology built into these cars) send us their experiences. The last such experience is sent to us by Tony Hitchen, who described the traumatic experience of his son who suffered a terrible car accident but still managed to survive.
The crash happened December 18th, On a very snowy day with white out conditions just outside Brantford Ontario Canada. From what Tony understand from his son he came up on some very slow moving cars, and didn't have time to stop so he swerved to avoid a rear end collision, and got into a head on collision with a full size Ford panel Van.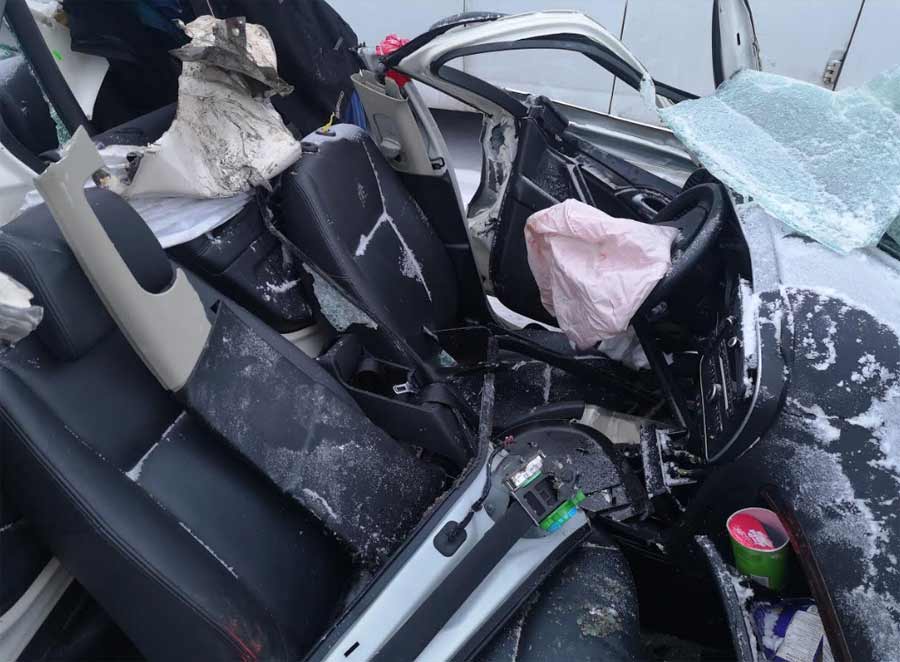 His car spun around and side swiped the van too. Then, He was airlifted to a trauma hospital with leg, pelvis, wrist and ribs broken and some internal injuries. He spent 3 months in hospital – luckily, no head or spine injuries! He is still doing home rehab and is well on his way to a full recovery. He has already bought a 2008 Saab 9-3 XWD for when he gets back to work.
If you look at the pictures the driver's seat dash and steering wheel are not out of position after the crash. Both the doors and roof were cut off for extraction.