"Sixties" or "the glorious 30s", The memory of this decade vividly takes us back to the first "Vespas" and "Fiat 500" on the streets of European cities. It was a time of golden economic growth, rising standards and the emergence of excess free time after hard work. In the 60s, when rock n roll arrived, and the Swedes like other Europeans took advantage of this growth to motorize, buying Volvos and Saabs, but also enjoying the joys of vacations and camping in the great outdoors.
In the early 1960s, Swedish manufacturer Saab was still part of a conglomerate that made airplanes and automobiles. We owe this funny little caravan called SaabO to the engineers of the aeronautical sector. Despite the very present growth, increased sales of Saab 96, heir to the 92 and 93 (95F), and aeronautical successes, Saab is still seeking to diversify its production and will eventually accept this small entertainment project.
Saab Type 260-3 SaabO
Bo Bjernekull and Birger Lindberg are engineers at Saab who come together around a Hovercraft project called MEFAN, which will give birth to the Saab 401, the only example of its kind. Officially they were working on a project called MEFAN that was supposed to produce hovercraft for the military. Unofficially they made a camper caravan. If this project will be stillborn, the two engineers, them, will work on their leisure hours on a completely different project: that of a small caravan sufficiently light to bypass the law limiting the speed of traction "except for light trailers". The bright idea of our friends will therefore be to offer a product that can be easily towed by a Saab 96 with only 38 horsepower, and without speed restriction.
In the hangars of Saab Aéronautique where Alouettes II helicopters were manufactured under French license from Sud Est Aviotion (SNCASE) two ingenious engineers will manufacture their first 1/10 scale model. Then, The project then passes before the "Saab diversification committee", which approves and validates the switch to production, thus making it possible to offer a real leisure product to every Saab owner.
A first prototype will be manufactured at the Fisksätra shipyards, then a pre-production model: it is in fact two polyester hulls (shells of glass-reinforced plastic – GRP) glued one on the other, offering enough space to sleep four (or even 5 with an optional bench), lunch (thanks to benches, a folding table and a gas cylinder), while remaining in a very contained weight (only 230 kilos). The interior consisted of 2 sofas, a dining table, galley sink and 2 wardrobes.
The Saabo will be built from 1964 to 1968, with only 438 examples. Suffice to say that it is extremely rare today, and that collectors are scrambling to complete their collection of vintage Saabs.
Here is another interesting and intelligent Saab solution related to the SaabO camper – SaabO had large, low-set front and rear windows, so that the driver of the towing vehicle (Saab 96) could look straight through it into the rearview mirror. With this solution, no additional large, elongated side mirrors were needed, characteristic of all other campers of the time.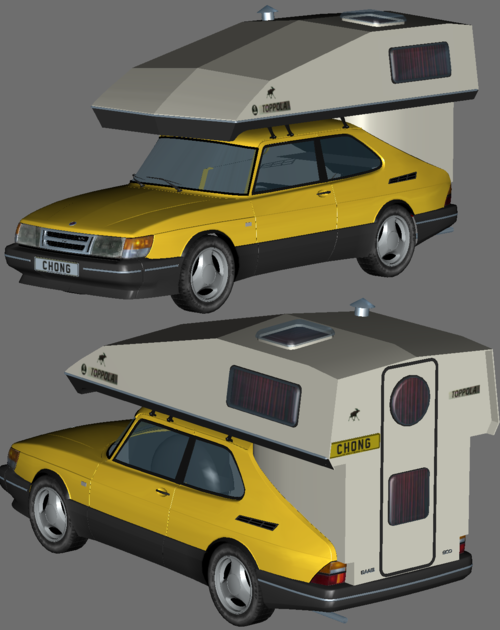 Despite the relative failure of the small SaabO caravan, this first foray into the leisure sector will give ideas to others. This is how in the 70s, the company Scando imagined a system of "caravan" called Toppola and adapted to the Saab 99 then to the Saab 900, 900 NG, 9000 and 9-3, as well as to the Ford Sierra. Production will last until 2006, and Toppola products are, like Saabos, collectibles themselves (to a lesser extent). Ioppola can welcome 2 people in a 170×200 cm bed, with a kitchenette included. The rear seats can still be used.