The idea of using drive-by-wire technology in cars is not new, but it has never fully taken root in the automotive world. This technology comes to us from the aviation industry, so it is no wonder that the company Saab, which also produces airplanes, has in several cases tried to implement drive-by-wire technology in their prototype car.
Drive-by-wire technology in Saab 9000
Let's try to remember the implementation of drive-by-wire technology in the experimental Saab 9000, and that project dates back to 1992. Really impressive. But that's not all. Saab, in cooperation with subcontractors, had another interesting prototype with integrated drive-by-wire technology. It was in the Bertone Novanta prototype model – Saab 9-5 Concept by Bertone and SKF.
Bertone Novanta – Saab 9-5 Concept by Bertone and SKF
This is a story on the development of drive-by-wire technology, featuring a Saab-based vehicle named as a 'Novanta'. Drive-by-wire is the emerging technology whereby a lot of your traditional mechanical devices are replaced by electronic switches and sensors.
Drive-by-wire, already used widely in planes, where it is known as fly-by-wire, means employing electronics, rather than mechanical and hydraulic systems, to operate a vehicle: Steering columns and brake lines give way to sensors and actuators. Steering wheels can be replaced with joysticks or driver control units and human-machine interfaces.
SKF, a Swedish auto supplier known best for making bearings and seals, was one of the companies trying for a piece of the market. Among the others are Delphi Corp., Siemens VDO Automotive, Robert Bosch GmbH, and currently many, many others.
At one time, SKF has placed drive-by-wire technology in several prototype vehicles, including General Motors Corp.'s fuel-cell-powered Hy-Wire, and the Novanta, a Saab-based concept developed with Italian design house, Bertone. SKF also developed fly-by-wire technology used in several Airbus models.
SKF demonstrated Novanta in October 2005 at the Compuware Arena, down the street from SKF's North American technical center in Plymouth.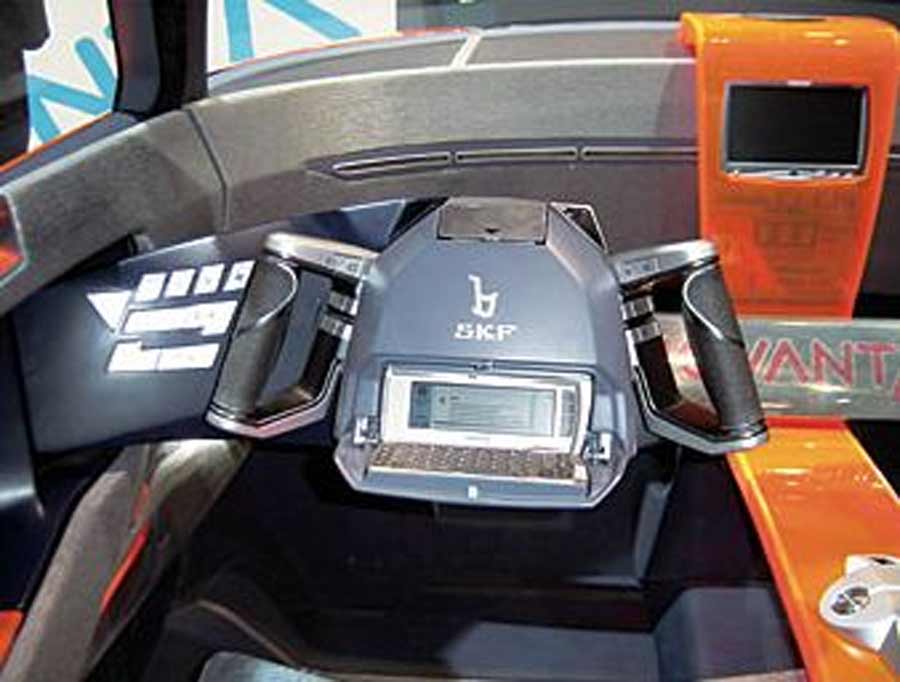 The sporty Novanta body is based on the three-liter chassis of the SAAB 9-5 V6. The interior has been designed in a classic high quality to show the public that drive-by-wire technology is not a short-term trend, but a technology that SKF and Bertone are convinced of.
At SKF, 12 employees from the relevant departments of the whole group had been brought together to form a team for this project: from the Automotive Division, Drive-by-Wire, the Industrial Division, Transrol, the Electrical Division and the Sensorized Bearings Division. The work was coordinated in the manufacturing plant.
The car without an accelerator or brake pedals
Novanta has no accelerator or brake pedals – only a mechanism called a human-machine interface that looks like a cross between an airplane steering wheel and the handlebars of a motorcycle. Rotate the handles back and forth to throttle the car up or down; squeeze them to brake, turn them side-to-side to steer.
The SKF system uses sensors to read the driver's actions and transfer the information to controllers called smart electromechanical actuators. The actuators convert electrical energy into force to perform vehicle functions.
When the driver attempts to turn the car, for example, sensors, rather than a steering column, send that information to the steering rack to turn the wheels.
In addition to the technologies found in Novanta, SKF was working on by-wire systems to handle emergency brakes and clutches. Also, at that time, the company SKF was working on the development of suspension-by-wire to improve vehicle ride and handling.
Drive-by-wire systems
According to the explanation of the engineers involved in the project at the time, Drive-by-wire systems can help fuel economy, because they reduce losses in engine power caused by the continuous running of systems, such as power steering pumps. In addition, they liberate car designers, removing bulky devices and theoretically allowing the controls for steering, braking, and other functions to be placed just about anywhere in the vehicle.
These advanced technologies, although very complex in themselves, can simplify car construction and solve fluid problems – Get rid of fluid, fluid lines, so we can position the brake pedal anywhere we want. A brake-by-wire system from Siemens literally cuts the cable from the brake pedal to the brakes.
Driver controls on the Novanta fold into the driver-side door when not in use. The control unit on Hy-Wire slides from one side of the vehicle to the other, allowing the car to be driven from the driver or passenger seat.
Autonomous Driving and Drive-by-wire systems
Yet, even though 15 to 30 years have passed since these concept models with drive-by-wire technology were introduced, we are witnessing that this technology still has not come to life in this form. Steering wheels are still present in cars, but we are coming up with a completely new technology, which is autonomous driving. In the foreseeable future, with the development of this technology, the steering wheels in vehicles should disappear completely – and the vehicles will most likely be driven only by voice.
In some cases, engineers working on drive-by-wire vehicles are using force-feedback technology, similar to what is available in some video game controllers, to mimic the mechanical feel of a vehicle, such as the vibration drivers feel when revving up a car. We feel through our hands what's happening, and that helps us understand what's going on with the vehicle and that helps us control it.
By-wire technology we know
Anyway, in self-driving cars, a huge number of subsystems are now or will be "something"-by-wire.
One such subsystem has long been present in all modern cars, and that is electronic throttle. They might have no idea, but many drivers have experienced a version of drive-by-wire: electronic throttle control. That commonly used technology eliminates the cable which traditionally connected the accelerator pedal to the throttle, which is the valve that regulates air and fuel flow.
Also, most new car models have by-wire parking brakes that automatically lock when the vehicle is parked and release when driving resumes. Everything goes at the push of a button, there is no longer a handbrake lever that is physically connected to the brakes with a cable.
Full drive-by-wire systems in autonomous vehicles that include electronic steering may be about a decade away. So far, One barrier to wider use of drive-by-wire was the limited electric power available in most cars, usually 12 volts. New electric and hybrid vehicles, which can generate their own electricity, are therefore a perfect application for drive-by-wire.
The development of mobility, especially in the last century, is one of the greatest breakthroughs for mankind and one of the most important factors for economic growth and social development. Because car traffic will continue to increase worldwide, new vehicle concepts have to be developed in order to find sustainable and environmentally compatible solutions to our transport problem.