Another tragic story from the world of motoring and automotive industry. Happens to many family businesses when the founder stops managing. A great Bertone design house that is no more.
Among many Bertone projects, we find this concept – Saab Novanta by Bertone.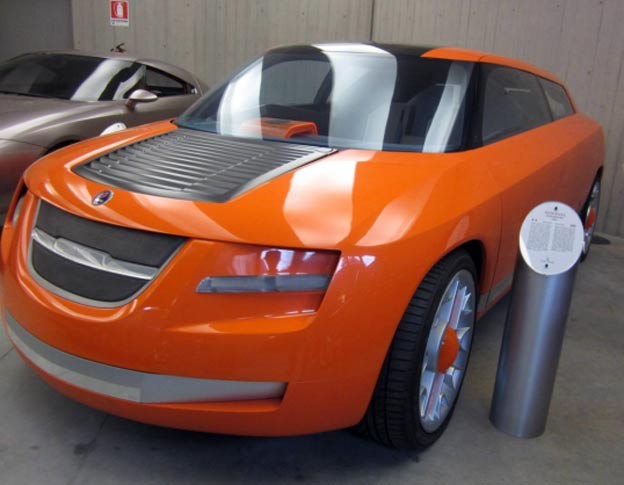 This concept car based around Saab 9-5 mechanicals designed by carrozzeria Bertone to celebrate its 90th anniversary was presented on the 2002 Geneva motor show. The car was B-pillarless and featured the drive by wire system by SKF. Born out of a vision of the imminent future, Novanta also recalls the philosophy that characterised the life and work of Nuccio Bertone, a philosophy still at the heart of Bertone today: always striving to push back the boundaries of what is possible…
Now, Bertone's collection goes on auction
Following the recent bankruptcy, a lot of 79 prototypes and rare production models from the Bertone collection will go on auction on next  14-28 September 2015 with a base price of just above 1M Euros.
Among the cars on auction, there is a Saab Novanta concept, with a starting price of € 22,000!
The SKF website has more details on the development and technology of the Saab Novanta:
For SKF and Bertone, the event has provided an opportunity to put a "concept" on the road. This concept offers a solid example of the way in which drive-by-wire technology fits with the idea of technology combined with environmental responsibility, as promoted by the Challenge. It also demonstrates the opportunities of a modern, more socially aware approach to transportation.The 2002 Michelin Challenge was held at several locations in Germany and France, culminating at "Le Mondial de l'Automobile 2002," the Paris International Motor Show.

Saab Novanta
The Novanta's sports body is designed on a SAAB 9-5 three-litre V6 platform. The proposal of a classic executive saloon has been made to get across to the public the fact that drive-by-wire technology is not a momentary trend, but a technology in which SKF and Bertone strongly believe.
Novanta utilises SKF Drive-by-wire technology. With this technology, the weighty and cumbersome mechanics and hydraulic arrangements are replaced by smart electro-mechanical systems. The drive-by wire systems represent state-of-art technology in this high-tech approach to vehicle control. The systems developed by SKF include steering, braking in collaboration with Brembo SpA, and interfaces for transmission control and throttle. The driver control unit – the Guida – incorporates all driving functions.
Technical data
Engine: 3.0 V6 24 valve.
Maximum power: 147 kW (200 bhp) at 5000 rpm.
Maximum torque: 310 Nm at 2200 rpm.
Wheels: 20″ alloy
Tyres: Michelin 245 – 40/20
External dimensions: length 4450 mm; height 1450 mm; width 1800 mm.
Read more: Novanta brings drive-by-wire closer to the automotive market