While the company SAAB remembers better days, it is a car that can be compared with the legendary models from Sweden.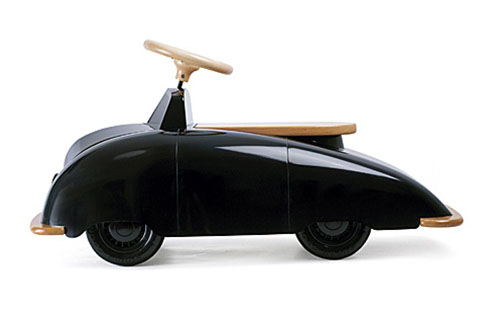 Unsurpassed Scandinavian design and quality workmanship minimized in collaboration with creative poeple from Playsam company.
Dimensions are 860 x 370 mm, and the ride can be enjoyed by kids older than 12 months. Lovable look is inspired by memorable prototype 92001 by Mr. Sason and quality of materials includes hand-finished details of wood, like a small wheel.
ROADSTER SAAB Make a child's first car ride a memorable one with Playsam's classic Roadster Saab, an activity toy for small children. Like most Saab cars, the Roadster Saab has a clean and simple design. Its design is based on the very first Saab — Sixten Sason's prototype 92001.Steering wheel made of wood and metal just like the old sports car steering wheels.DIMENSIONSlength / 940 mm color / black/natural,material / Body: ABS plastic/ Bottom chassis, seat and steering wheel: wood/metal/leatherage / 12 months and up
Roadster de Luxe have leather seat and Steering wheel with leather.