"Saab at The Mill" is tag name for Saab Fest 2020, the national event run by the Saab Owners Club of Great Britain. The event is being run by the local group, South West Saab. "Saab at The Mill" will take place on July 31, 2020 – August 2, 2020 at Haselbury Mill (UK).
Can you believe the iconic 9-3 Carlsson celebrates its 10 year anniversary in 2020. Saab at The Mill will have 3 Carlssons on display in each colour by the barn to mark the occasion. Organiyers also hope that many more will join them for the event. Below is some information about these fantastic machines: A limited edition of 96 Aero Carlsson 9-3 was released to celebrate the historic achievement.
In 1960, the legendary Erik Carlsson – affectionately known as Mr Saab – won the British RAC Rally for the First time in Saab 96. He subsequently went on to dominate the enet again in 1961 and 1962, taking convincing wins against strong competition. 2010 marks the 50th anniversary od Erik's first win for Saab on the RAC Rally. The Limited edition Saab 9-3 Aero Carlsson celebrates this milestone anniversary and recognises the huge effect that rallying successes have had on Saab's history.
The Saab 9-3 Aero Carlsson features Saab's leading cross wheel drive (XWD) system, offering all wheel drive transmission technology that, until recently, was only found in the world of modern day rallying. Naturally, a Saab would not be complete without a turbocharged engine. The Aero Carlsson was no different, featuring a 2.8 litre V6 turbocharged engine producing 280hp anf 400 Nm of torque channeled through a 6-speed automatic sentronic gearbox. The combination of sure-footed traction allied to effortless engine performance provides a dynamically rewarding driving experience.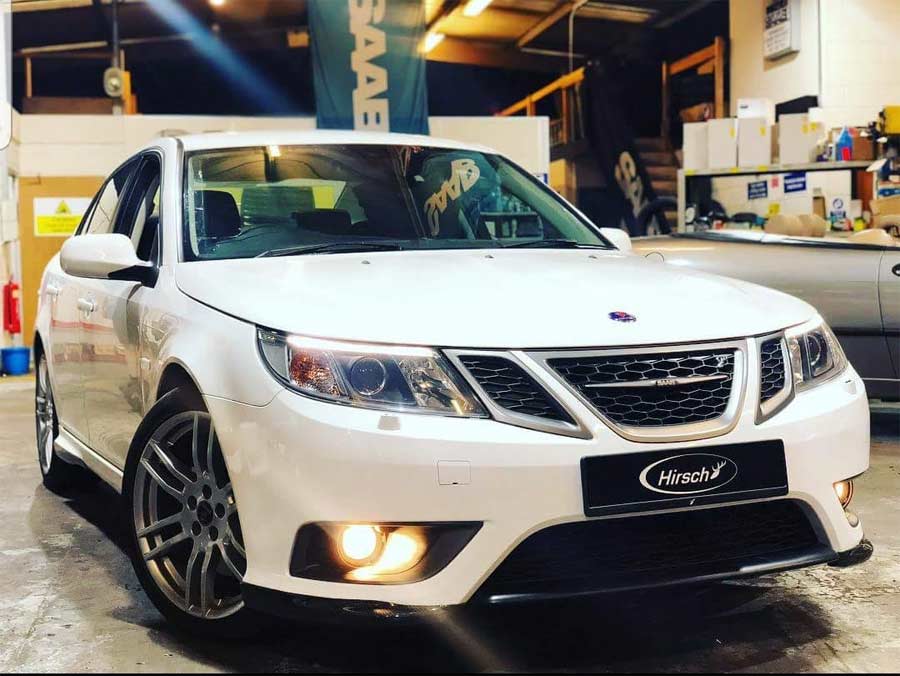 Hirschoptions were fitted to the interior and exterior to make the car unique in its appearance.