In mid-August, a British duo from the city of Blackpool embarked on a great journey for humane reasons. They converted their Saab 9-5 Wagon into a real disco machine and set off on a 2,500 miles journey to raise money for a resort hospice, in a clapped out 200,0000 mile Saab that cost just a few hundred quid.
Stuart Holt and Neil Wallace, both from Marton, used the 2004 Saab 9-5 Aero on the Screwball Rally to raise cash for Brian House Children's Hospice. The Screwball Rally is a five-day day European road trip through France, Belgium, Luxembourg, Germany, and Switzerland.
Their goal was to raise a certain amount of money o support the amazing work that Brian House do. Good old Saab has been turned into a 'disco machine' including speakers, a lighting rig and even a disco ball.
The disco machine started life as a 200.0000 mile battered old Saab. Together Stuart and Neil with the help form a few newly acquired freinds have turned it into a fully working mobile disco machine. Complete with full disco sound system. Light show mirror ball. Wireless microphones. Karaoke machine and lots of smoke . And even more lights for good measure.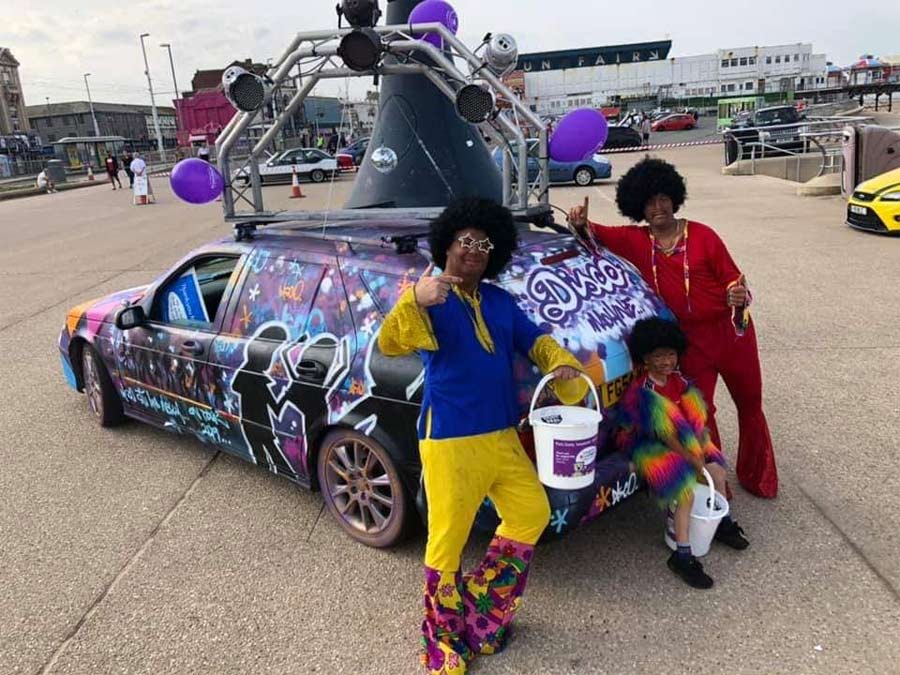 Today, on the 18th september they will set off on a 5 day adventure across europe on the screwball rally . They will cover approximately 2500 miles in 5 days. The Team will be dressed in 70s disco fancy dress the whole time.
If you look at the donation page, you will see that they have already raised a lot of money, and you can participate in the donation.