There are very few women in car journalism. Just try to remember a female name that is part of a car newsroom, whether it is a print or TV newsroom. They simply do not exist, and their voice is very rarely heard, and on the other hand, marketing teams assure us that decisions about buying most things, including cars, are made by women. That is why it is very interesting how women and women's journalists perceive cars.
Because of this, we recall an interesting article from the local newspaper "New Straits Times" published in Singapore, some time ago. Then, the editorial office of this local newspaper sent their journalist SHANNON TEOH to the presentation of the new Saab 9-3 Convertible.
As he himself says, it was "ladies night"!
Vodka, Women and Fast Cars
Things can't get any better for SHANNON TEOH at the relaunch of the Saab 9-3.
WAHHH, ladies night! Can't wait. So happy that my editor decided to send me. Better wear something nice. A clean T-shirt perhaps. And a pair of pants with no holes.
Should I shower? Guess I will, since I've run out of cologne.
This was going to be fun, cars and women. And not just any car. Premium cars. Specifically, the Saab 9-3, re-introduced this year in seven variants.
And sure enough, when I got to the Auto Eurokars showroom in Glenmarie, Shah Alam, it was full of boot… space. Yes, the Saab 9-3 was plenty roomy. Nice to know I can stash away a couple of dead bodies in the boot. I mean, just in case, you know.
And I hadn't even stepped into the building proper. Those 9-3s were sitting in the car park. Strangely enough, the Saabs in the showroom were hidden under a veil. Damnit. Now I have to choose between curves of steel or flesh.
Fair enough. Inside though, plenty of curves belonging to a few people I knew.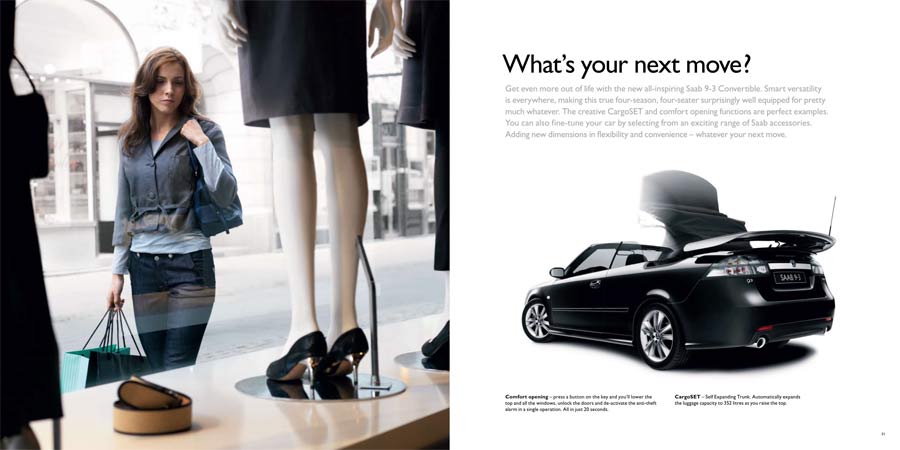 "Hey, how are you? Fancy seeing you here. You into cars?" – I offered, along with a glass of vodka to a fellow journalist – a bar run by Absolut was free-flow for the night.
"Oh, yeah, sure."
"Lots of space, huh, to put shopping bags and all your girlfriends a la Sex in the City."
"Wah, so stereotypical-lah you. Women can"t like fast cars, meh?"
"Umm, can, but you like because it's fast or because it's spacious?"
"Because fast-lah. Even the entry-level 9-3 has 150bhp and the Aero has 210. Some more can kit it up to 252 horses."
"Whoa, you did your homework, huh?"
"Ya-lah, then? Like you-ah, looking for leg room only."
Well, that didn't go so well, I thought as I took a sip. Auto Eurokars senior marketing executive for Saab, Derrick Tan, came by and slapped me on the back.
"Actually, dude, we notice women are more into the driving experience nowadays. They used to go for practicality. These days women are comparing power specs, what's the torque and when it comes in," he explained.
Right, I'll have to keep that in mind. I drifted towards the Apple booth, where the obvious draws were the minis, both iPod and Mac. Neat. Spec-savvy women would probably flock here.
"This monster player will go well with that monster car, huh?" I said to a fellow browser while picking up the top-of-the-line iPod Photo.
"Uhh, I guess," she said, whilst fiddling with her cute iPod mini.
"Nothing like blasting a song with a thumping bassline to go with 300Nm of torque shoving you forward."
"Is that all you guys can think about? Power? Look at this," she said as she shoved the pink iPod mini into my face.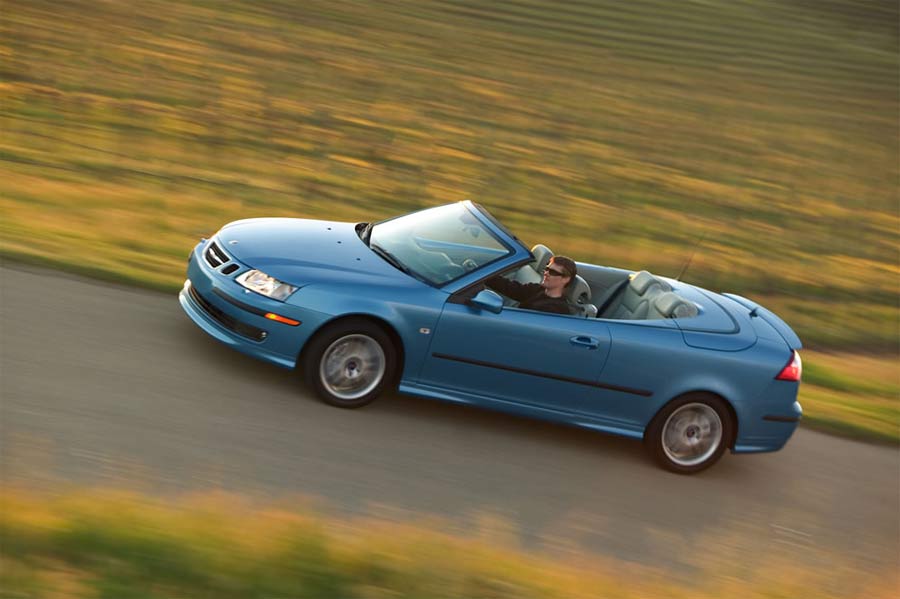 "It's so much more functional. It's got six gigabytes of storage. That's already 1,500 songs. Having 300 whatever on your car is nice, but it's got to look good-lah. That's why I like the chrome green one outside. It'll go well with the green iPod mini actually," she replied, reaching for one and ignoring me.
Ok. Now, I'm confused. But she was right though. The convertible did look sleek and would be a great "handbag" for the stylish cutting-edge woman.
Derrick sighed as he approached me again.
"Friend, whatever it is, the first thing is still the looks. If they like how it looks, then they get into the rest of it. Especially with the convertible"
I pretended to be interested in Ken's Apothecary, YTL Hotels – Tanjung Jara Resort promotions and Kukubar's and Energy Day Spa's free demos – seeing if there were any other likely suspects.
If Saab was trying to associate itself to a pleasurable lifestyle experience, it was doing a pretty good job – except for the rather naff male dancer routine. Or maybe I was just biased.
"Women want to know what's associated to the car. It's a lifestyle purchase. All our convertibles are bought by women because they're more receptive to open driving. It's about what it speaks for you."
"We believe women will choose Saab over our competitors chiefly because of it's value for money. Ranging from RM212,000 to RM367,000, our cars cost less without sacrificing on size, specs or technology."
Well, on closer inspection, it's not 100 per cent without sacrifice. The 9-3 does cut away a bit of power and technology but makes up in room and safety – the Aero, which climbs to law-breaking speeds in a jiffy, also eats up corners comfortably, with its rigid chassis, electronic traction and stability systems. On top of that, it's been accorded five-star status by EuroNCAP in its collision test programme.
It is also, in my honest opinion, a handsome looking car. Better looking than the dancers that night, for sure.