Like the Saab Formula Junior and the Saab Sonett Super Sport (Sonett I) the Saab Catherina began life as the personal sports car project of Sixten Sason.
This vehicle was named 'Catherina' from a play on a popular song at the time and also because of the factory it was built at which was the ASJ factory in Katrineholm, Sweden. The Catherina was designed by Sixten Sason and began conceptual drawings in January of 1963.
A real-life scale model was made in the fall of 1964, and the final concept was completed for review by management on February 9th, 1965. The prototype was first displayed, however, only on 24 April 1965, at the Linköping Sports Centre.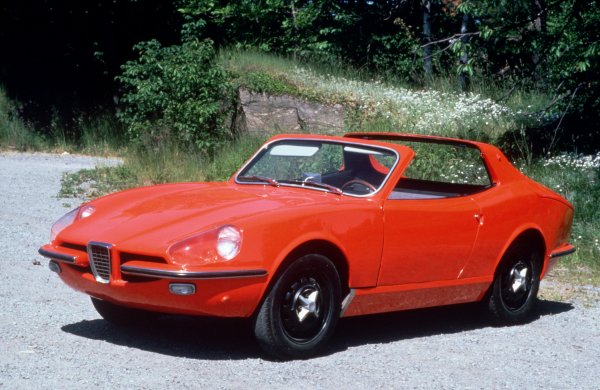 The SAAB Catherina had a number of features that were ahead of their time, such as the targa top that was the correct shape to be neatly stowed in the boot. Other features that Sixten Sason envisaged, such as the roof-mounted headlamps to provide greater range on dipped beam, never made it to the prototype.
For economy reasons, the Catherina utilised many components of the contemporary Saab 96 and shared the same wheelbase, which was longer than the finally accepted design. Its unique feature was its targa top, which could be stowed in the luggage compartment of the car.
Stemming from the design of an integral 'roll bar', it was still a new concept in the automotive industry, preceding the 1966 Porsche 911 Targa, which popularized it (and established the name).
Sason also designed some other unusual features for the Catherina, such as the roof-mounted headlamps (for longer range), which were not included in the prototype because of the need to make the car fit for mass production.
The Catherina is currently located at the Saab Museum in Sweden.