Today we present to you exceptional works created by Cyril Tihonov, who says that he is not an artist but his works say the opposite. His area of interest is Miniature photography, which by definition is one form of photographic artistry to mix the real with the surreal. Аnd just like that, looking at miniature photos, you are often not sure if a real-world situation has been captured or the scenery is set – it is also called a Diorama.
And that's exactly the essence of this form, you have to be really good at spotting the scene and find the right elements (in the right proportion) and then capture all that in the same quality with your photo camera. Many tried, but were not very successful, while Cyril fully mastered this form.
Read below about Cyril's view of this art form in which he talks about his motives and how he came to this passionate hobby. Read Cyril's confession below and be sure to follow his Instagram account stagnant_fanatic!
Saab Style as a Source of Inspiration
by Cyril Tihonov
I can't call myself an artist. I'm just a creative person who likes to do something with his own hands. From childhood, I loved to draw, sculpt from clay, or assemble Lego. In childhood, everyone seems to be doing this. Time passed, and I continued to draw, to make something. In terms of cars, I was never a technician and I always liked aesthetics more.
1/43 is the Right Measure
At one time, there were even thoughts of becoming a car designer. "Who the hell are you? And why should I read all this?" the reader will ask me. Yes, sorry. I didn't introduce myself. My name is Cyril. I am 24. I live in Russia. No, I'm not a car designer or even an artist. I work at school. Do I have a car and maybe it is Saab? Not again. I must say right away that I don't need it yet. But I have 74 (at the time of this writing) Saab models in 1/43 scale. Why are you reading this all? To find out about my hobby, in which Saab is in the lead, oddly enough.
A Hobby, a Passion, a Miniature
"It's childish," you can say. This is your opinion. My hobby is shared by few of my friends. In general, it is specific. But I love what I do. For almost 10 years I have been collecting various domestic equipment: from cars to tractors and tanks. But there was no end and edge to all this diversity. And at one point in 2018, I decided to change my principles in collecting and bought two Saab models (96 and Ursaab).
Why Saab?
Why Saab? This is an old dream since those years when our family had silver Saab 9-3 of the second generation. Years passed, Saab wasn't only in the family, but also as a car brand. And when I saw these two models (96 and Ursaab) this old dream seemed to come to life in me. At first, I continued to collect domestic models and Saabs. But at one point, I completely preferred the Saabs, removed all the old models and left only the Saabs.
From this very moment my hunt for little Saabs began. It is worth noting that the convenience of collecting Saabs is that all the same, their lineup has a beginning and an end. On the one hand, it is sad, on the other hand, it is amazing because you see models of a brand-legend in front of you.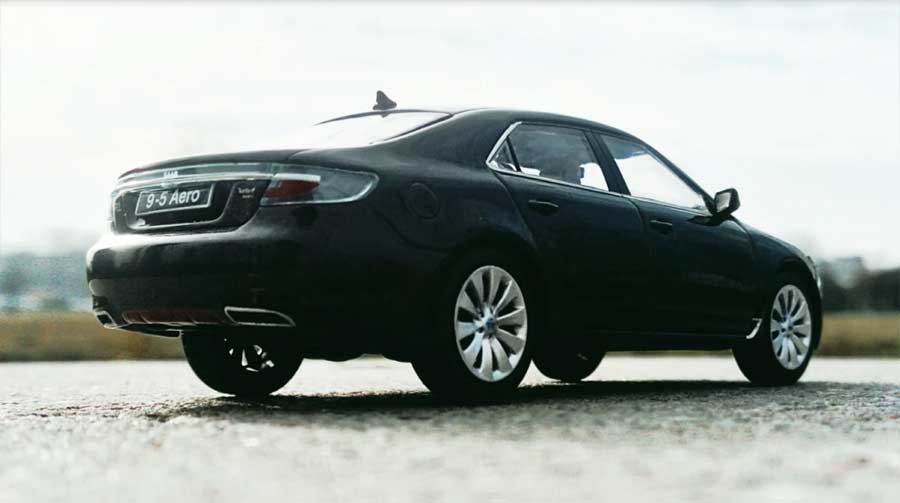 Collection of 74 models
As I said, there are 74 models in my collection. No, I'm not bragging, but stating. I collected all this amount in less than 2 years. Saab gripped me with real passion! And I not only buy models and put them on the shelf, I adore photographing them. I like to take models outdoors or in the city. But it's not always possible to leave the house. For example, now during an epidemic. Therefore, the "environment" has to do it yourself. Last December, I started making dioramas for my photos.
The first was the wall of the Saab service center. After the New Year, I decided to make a "summer" diorama and this is a fragment of a parking lot with a forest. I recently made a wall of an abandoned factory with broken windows and graffiti-painted walls. For me, it is important to recreate the most realistic place that I will photograph. I have always had a craving for realism. Earlier in the drawings. Now in the photos. Thanks to the Saab models, I discovered the interesting world of creating dioramas. For me it's like 3D painting. Of course, when I photograph, I process the photo, but only so that the viewer takes the photo with the model for the photo of a real car. This is really funny.
And Again, Why Only Saab Cars?
But you may ask, "Why is Saab all the same? Are other models worse?". I love Volvo, I love the design of the Porsche and the old Citroën. But Saab inside me responds with something familiar and dear. If I were born much earlier, perhaps I would be the same "architect who prefers Saab," as Jeremy Clarkson once said when he surveyed the 9-5 sedan.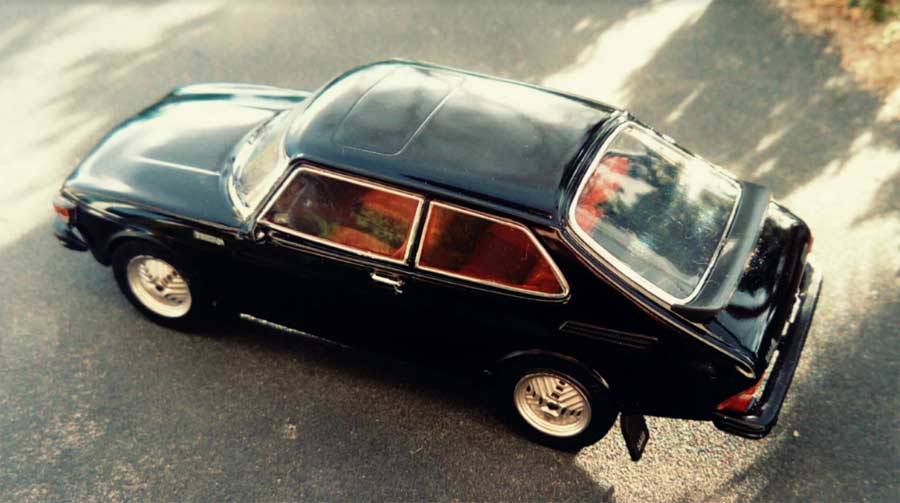 Saabs are insanely stylish
I remember once reading this phrase: "The design of Saab is either incomprehensible, or you fall in love with it forever." The second thing happened to me. I find Saab insanely beautiful. I love the Saab 99 Turbo Coupe and the Saab 900 Turbo OG. Family 92-93-96. They are all very beautiful and each model has its own interesting story. In my collection, I really like the 9-4X models, sedan and sport-combi 9-5. Their design is still relevant.
They are insanely stylish. And I share this love of style and beauty in my Instagram account. And I'm very glad that the fans of the brand are interested in my photos and my hobby. After all, the fact that I do this isn't only a hobby, but also a confirmation that Saab is immortal. Especially on a scale of 1/43 (blow off dust particles).