This is a brand new Saab 99 Turbo Coupé from 1977. This is THE one that revolutionized the car engine development: it was the First successful turbocharged production car. Thanks to the Valmet Automotive company for this great photo.
Sure, it was Porsche that tamed the turbo for the street and made it glamorous. But it was a Saab that made turbos accessible for everyone.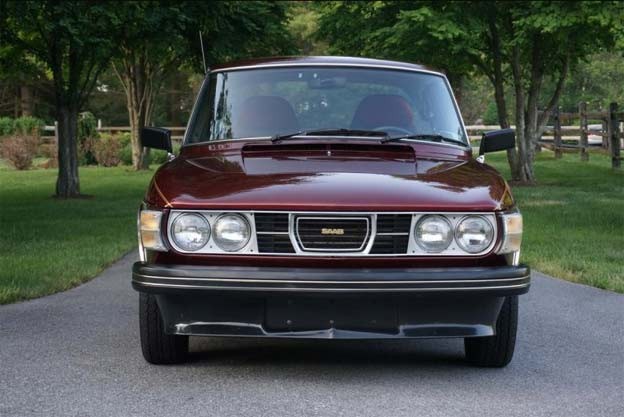 By 1975 Saab's entire product line in America had dwindled down to a single model: the four-cylinder, front-drive, 115-hp Saab 99. By then, even though it was in many ways still ahead of the competition, the Saab 99 was already 6 years old and Saab didn't really have the money to develop a viable successor or fit it with a new engine. However, it did have Porsche's example to follow. So in 1978 it created the Saab 99 Turbo.
Like Porsche, Saab mixed Bosch fuel injection with a turbo–albeit a mechanical instead of an electronic system. But instead of a large turbo that would overwhelm Saab's simple-but-rugged eight-valve, 2.0-liter Four, it went for a very small Garrett T3 turbo that spooled up quickly to produce thrust even at low rpm. The result was an easygoing turbo engine that drove smoothly and produced a full 135 hp. That may not sound like much today, but back in 1978 the BMW 320i had only 110 hp.
At 10 grand, the 99 Turbo wasn't cheap, but it didn't cost much more than a 320i and, frankly, the Saab was a much better car. Suddenly anyone shopping in the import mainstream could have an excellent turbo car.
The 99 Turbo lasted only one model year as it was replaced during 1979 with the new 900–which really wasn't much more than a 99 with a slightly longer wheelbase. But Saab kept building turbos and today it's the major element of Saab's engineering heritage.
From 1969 to 1984 the company Saab Scania (Valmet Automotive) in Finland made a total of 191,049 units of Saab 99.