Only two years after production of the Saab 99 started, work was begun on a new project – X14. Its Saab 98 – straight from the Saab museum comes this beauty that never came to fruition, but can enjoy it either way. Saab 98 was the number used by Saab for a project in 1974 making a combi coupé based on the Saab 95.
The Combi Coupé was essentially a hatchback that was a cross between a comfortable family saloon and an estate car.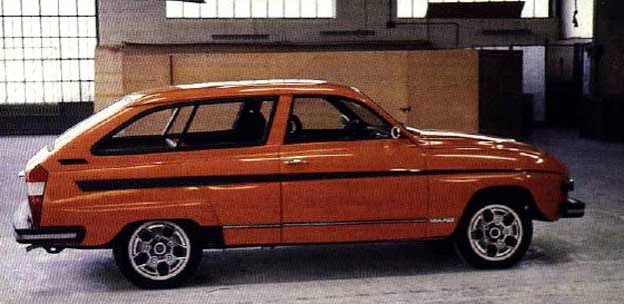 Originally it was called X14. The construction of the 98 was based on the Saab 95 floorpan and the design was made by Björn Envall. The prototype was assembled by Sergio Coggiola who had already done work on the Saab Sonett III.
Only "a couple of test cars"[ were built up to 1976 and the project was abandoned as Saab decided there was no room in the market for a car between the Saab 95 and Saab 99. The project was, nonetheless, an interesting development of a much-loved model (the 95) and might have delayed that successful format's demise, had this model achieved production status.
The only surviving Saab 98, in 'Siena Brown', licence plate (Swedish) AYX 330 started its life as a white Saab 95 registered on 7 September 1973, is currently on display in the Saab Museum in Trollhättan. The experimental Saab 98 was painted in one of the new 1974 colours, Sienna Brown, and had the same model year's new front grille of plastic. A neat, driveable tin box of which only one exists.