Get ready to witness a truly exceptional automotive find – a 1967 Saab 96 V4 Monte Carlo Coupe, a rare gem that is about to make its appearance at an upcoming auction in Melbourne. This beautifully preserved vehicle is estimated to fetch a price between AU$28,000 and AU$34,000, making it a valuable addition to any car enthusiast's collection. Let's delve into the fascinating history, specifications, and unique features that make this Saab 96 V4 a prized possession for vintage car lovers across the globe.
A Historical Legacy
The Saab 96, initially introduced in 1960, was renowned for its advanced technology and sturdy build. Initially equipped with a two-stroke three-cylinder engine, the 96 enjoyed early success but faced a decline due to the limitations of two-stroke technology. In a significant move to revamp the model, Saab decided to collaborate with Ford's European arm and fitted the 96 with a robust V4 engine in 1967.
Powered by a 1498cc V4 engine sourced from Ford, the Saab 96 V4 Monte Carlo Coupe exhibited impressive performance figures. With 65 horsepower under its hood, the 96 V4 could achieve a top speed of 90mph and accelerate from 0 to 60mph in just 16.6 seconds, all while delivering outstanding fuel efficiency thanks to its aerodynamic design.
Rallying Heritage
The Saab 96 enjoyed a long and successful career in international rallying, with the legendary Erik Carlsson winning the prestigious Monte Carlo event in 1962 and 1963. To pay tribute to Carlsson's success, Saab released the Saab 96 Monte Carlo 850, a rare homologation special equipped with a modified version of the 841cc two-stroke three-cylinder engine.
However, the most coveted version remains the Saab 96 Monte Carlo V4, produced only in 1967 during Saab's transition to the Ford V4 engine. This particular model boasts distinctive features, including dual chrome strips along the body, unique badging, and a rally-ready wood-rimmed steering wheel. Additionally, the wheels were mounted on five-studs instead of the regular four, adding to its exclusivity.
Immaculate Condition and Rarity in Australia
The Saab 96 Monte Carlo V4 being offered at the upcoming auction in Melbourne is a true masterpiece. Sourced from Holland, this vehicle underwent a full restoration in 1995, bringing it back to its original glory. Its crisp white paintwork remains in excellent condition, complemented by Saab-branded Ronal Minilite-style alloy wheels and driving lights in the front.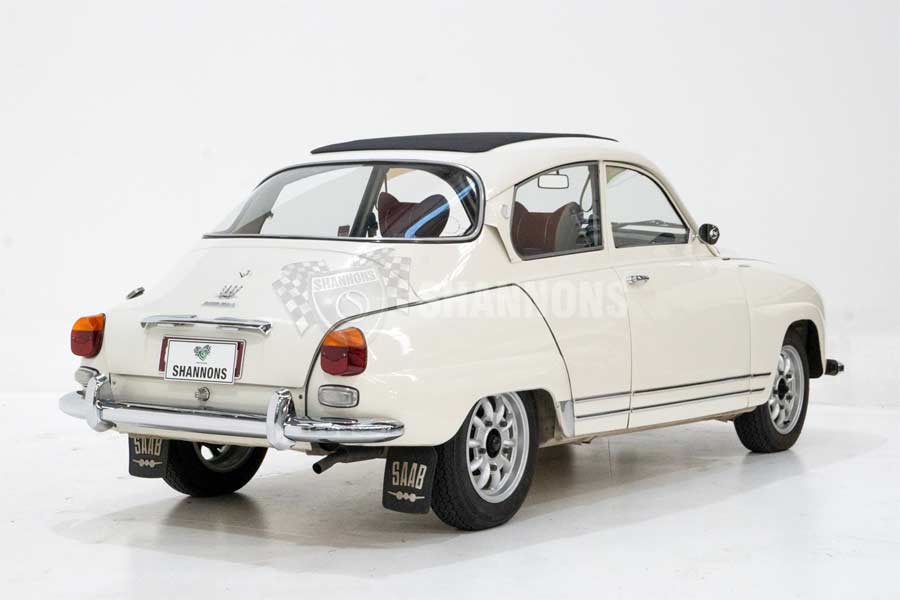 Step inside, and you'll be greeted by a stylish cabin featuring red cloth seat facings and grey vinyl trim. The interior matches the pristine exterior, reflecting the care taken by the current owner who purchased the car five years ago. The vehicle's brake system has been overhauled, the fuel pump replaced, and various trim elements meticulously restored.
A Unique Opportunity for Enthusiasts
The 1967 Saab 96 Monte Carlo V4 is an absolute rarity on Australian roads, and it's highly likely to be the only one of its kind in the country. With only one year of production, this Saab 96 variant holds immense value for collectors and rally historians alike.
Whether you're a Saab aficionado or simply appreciate vintage automobiles, this exceptional vehicle promises to captivate your imagination. With its rich history, stellar performance, and unparalleled rarity, the 1967 Saab 96 V4 Monte Carlo Coupe is set to become the crown jewel of any car collection.
A Swedish industrial icon in Australia
As the auction date draws near, the anticipation for the 1967 Saab 96 V4 Monte Carlo Coupe grows among car enthusiasts and collectors alike. With its fascinating history, impeccable condition, and unmatched rarity, this vehicle is bound to find a deserving home in the hands of someone who truly appreciates its significance in the world of classic automobiles.
Don't miss the chance to witness this exquisite piece of automotive history as it graces the auction stage in Melbourne, captivating the hearts of Saab enthusiasts and vintage car lovers alike.