Davide Virdis presents himself as a graphic designer, but he is basically a broad-spectrum artist fascinated by cars, high octane, racing, rounded sports lines, and in general – the man behind the steering wheel. He and a group of enthusiasts gathered around the "Drive Experience" project want to praise the man who holds the steering wheel, whose ideal shaft crosses the earth, launched in a race, also on the circuit of its orbit.
He learned to read and draw thanks to a decrepit collection of period magazines. The cross-section of a Lancia LC2 group C remained in his head and he firmly believes that this was the first input that pushed him towards the world of engines and visual communication. He studies Illustration and Visual Media at the London College of Communication and is irreproacibly obsessed with cars and in general everything that moves mechanically. He drives an old '86 Mini in silver gray on a daily basis and all he believes in is the throaty rumble of carburetors, the half million whistles and whistles that follow and that hypnotic scent of petrol, engine oil and rotten upholstery certain cockpits.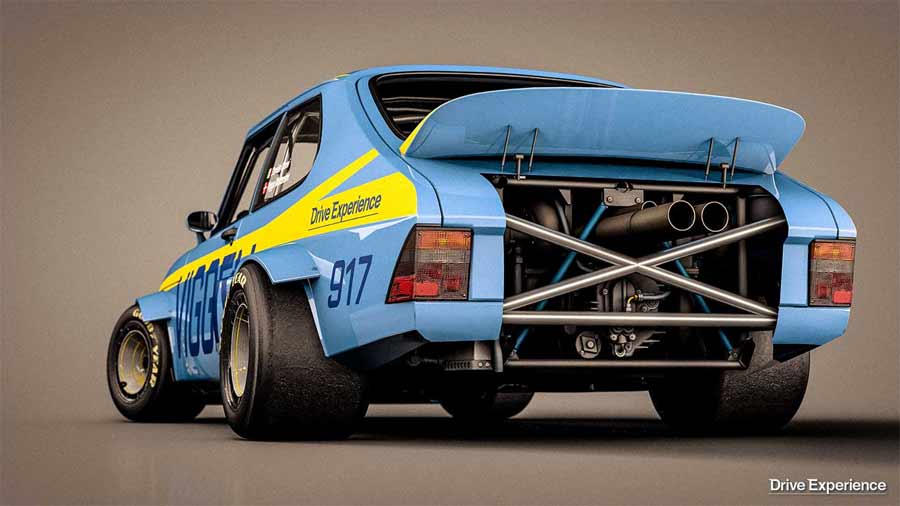 Racing Saab 917 inspired by the Holy Trinity
Now let's go back to his vision of a racing Saab car inspired by another fierce racer – Porsche. In fact, the whole concept was inspired by the racing models that Davide met in his earliest coolness, and those were BBurago models blue Bugatti EB110, Lamborghini Countach in white and of course bright red Ferrari F40 – it was "the Holy Trinity" for him. Those cars, as incredible as they were (even if he didn't understand anything, at the time, in terms of technical specifications) were designed to be absolutely out of the ordinary cars and their proportions didn't surprise him that much, they attracted him crazy spoilers, splitters and company had every reason to stay where they were.
The very wide wheel arches the hopping rear and that sharp and very bad rumble made it look uncomfortable in its bodywork, it seemed that some sort of flame-breathing monster (very pissed off) was trapped inside and was doing everything possible to get out. This childhood memory is what prompted Davide to create this … Saab thing!
Saab 917 Racer
He took a car that is normally (at least in Italy) considered the favorite of geography professors, a 1978 Saab 99 3-door and paired it with the most powerful and reckless racing car ever built, the Porsche 917/30 of 1973.
This Saab is therefore now twin-turbo, mid-engined and rear-wheel drive, it gets a much more powerful 5,400-cc 12-cylinder boxer engine that would produce 1580 hp at a pressure of 2.7 bar in the qualifying setting, and "only" 1100 hp in a racing environment. That's the idea, an he has absolutely no idea how much this car can weigh, but as standard this Saab weighed 955 kg, let's assume that it now weighs 800, the weight-to-power ratio reaches 1975 hp per ton (according to some simplified calculation). What competition could this car enter? The 917/30 raced and dominated the Can-Am at its age, but here we're talking about a car that would probably twist and break with every tap of the accelerator.
A teammate, Davide suggested the Swedish Air Force as inspiration for the livery, then a Swedish blue background and a series of yellow bands along the "edges" of the sides with a nice "VIGGEN" in large letters on the sides and bonnet.
And if his idea really materialized, the question is where such a "road monster" could drive, and maybe race. Hillclimb? Can-Am? He said it would be more appropriate for something like a charity contest for some "criminal asylum". Anyway, the idea and the graphic materialization of the concept are great and will delight many Saab fans.