Here's another interesting Saab concept that is conceived and created by designer Leif Mellberg (who was also the designer of Saab EV1 prototype, Saab 900 Speedster, Saab Mayo, and Saab Gullwing) – six wheeler Saab 906 Turbo – Biggest Saab Ever Built.
We've covered a couple of Mellberg's custom Saabs in the past, though this one may be the most distinctive yet.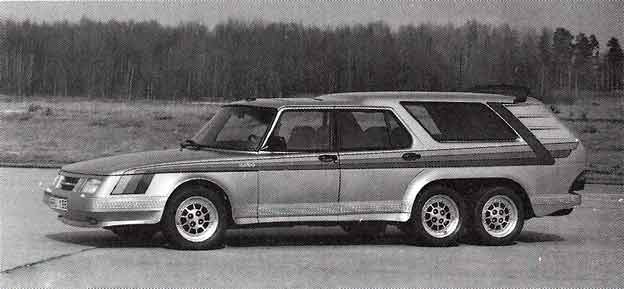 This is his project in 1984, and as a basis served classic 1981 Saab 900 GLS. Basic Saan 900 was extended 60 cm and Saab 906 measured a total of 530 cm. Additionally, Saab is in some places laterally extended, with 18 cm at its widest point. It looked incredibly long in profile.
Saab 906 was full variety of gadgets, such as video, stereo system with 16 speakers, fridge / freezer / heating cabinets, Police radios, radar detectors, Cruise Computer, alarm etc – Probably, at the time, most well-equipped car in Sweden.
The car did not serve as a transport vehicle such as Leif originally planned, and became a rolling advertisement for his company Mellbergs custom.
Unfortunately, the car was fifteen years ago ended up at the junkyard in Varberg: