Alexey Korobov from Ukraine is already known to the readers of our site for efficiently modifying Saab engines, and extracting high performance from "ordinary" Saab factory engines. His previous project we presented here was a converted Daewoo Lanos powered by a Saab engine (280HP). In that previous case, the base was a B205 engine, and now it's a B204L but inside a Saab.
He is completed his new project and was able to test the real HP at the dyno stand, and he has good news – he managed to pack 300HP under the hood!
This Swedish aircraft, hull number 900NG, took up combat duty in 1995. Alexey, the owner and just a big fan of Saab, purchased this car in 2017 as another project for his garage. Earlier we already did a review of his first project.
This time he had to work hard to restore the 900NG. He got the car with high mileage and an engine with no signs of life. But nothing is impossible! Now his Saab is in great shape and will give odds to many modern cars! Some time after buying 900NG, Alexey had a plan of action.
Over the two years of construction of the project, there were several options, but the final result with the TD04HL-20T turbine was still achieved! 340BHP or slightly less than 290WHP. All this was possible thanks to another enthusiast from Belarus (by COM Lab), who is also an ECU tuner in this project!
We post a few specs of this project below, and also read the full range of modifications made by this team of tuners.
Engine:
– Replacing (swap) B204I to B204L;
– Exhaust manifold T3 from Saab 9000;
– Fuel injectors 800 cc;
– Blow HKS SSQV (old school, JDM);
– Gasoline pump Walbro F90000262 400 l/h (USA);
– Downpipe 3″;
– Direct-flow exhaust system 3″;
– Manual transmission F40WR RPO-Code MZ3 from diesel Vectra C (Z30DT);
– Custom intercooler by COM Lab (core size 575x183x74);
– Oil cooler B204L;
– Gas equipment of the 4-generation with reducer Zavoli Zeta S up to 340 hp.
Suspension, brakes:
– Front springs stock, shock absorbers KYB Ultra SR;
– Rear springs stock, shock absorbers KYB Gas-a-just;
– Front brake discs 321 mm, brake calipers from Alfa Romeo 159 3.2 JTS;
– Rear brake discs 286 mm, brake calipers from Opel Omega B (ATE monoblocks 2X40 mm);
– Brake master cylinder from Mercedes ML 400 CDI, 25 mm.
Wheels:
– summer: BBS RK-II 17″ PSD 5X110 8J ET35 DIA 65.1;
– winter: Saab
Viggen
17″ or Borbet Grandstand 17″ PSD 5X114.3 7.5J ET40 – (TTE) Team Toyota Europe.
Externally:
– Radiator grill 9-3OG;
– Replacing the standard front bumper to 9-3OG;
– Replacing the standard rear bumper to 9-3OG;
– Overhead sills and rear spoiler from the 9-3OG SE version;
– Fog lights Valeo;
– Rear trunk lid (5 door) from 9-3OG;
– Tinted rear hemisphere, American 15%;
– Regular washer headlights plus wipers.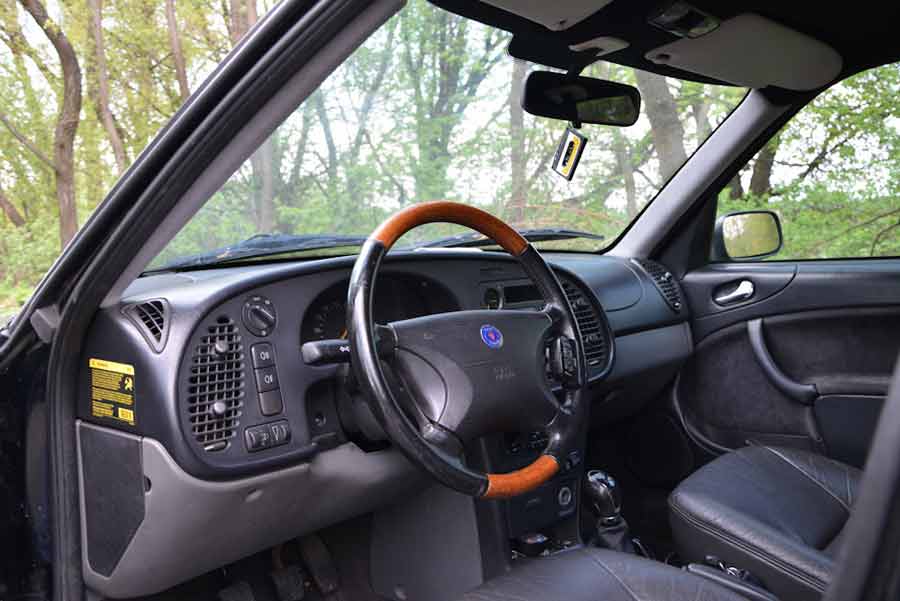 Inside:
– New black velor ceiling;
– Front seats in leather from 9-5OG;
– Rear seats from 9-3OG;
– Full set of standard electric windows, SHERIFF PWM 104 glass closer;
– Dashboard with
APC
boost gauge old year;
– Leather steering wheel plus wood inserts from 9-5OG;
– Steering column adjustable for reach;
– Opel Insignia short-stroke manual transmission cable;
– Original factory floor mats from 9-3OG;
– Dashboard trim made of wood veneer;
– On-board computer IDS 2.
Audio:
– Pioneer DEH-P77MP head unit;
– Tweeters from MAC Audio Edition 216;
– Front MAC Audio Edition 216;
– Rear Morel Maximo Coax 6X9.