Saab 9000 – this is the car that was used in testing the new engine. It was quite an interesting test, the first day of testing resulted as 1500 Finnsh Marks ticket for speeding. This is the only car with the v8 engine in it, There was 5 V8-engines built overall, and engine block has been designed and casted in VALMET TRACTOR ENGINE PLANT.
Five SAAB V8 engines were made, one is in the factory in Linnavuori, Finland, two are in the SAAB museum in Uusikaupunki. One is installed in this 9000. The cylinder heands and pistons were from Saab 2.0L. Same idea was used in Lancia Thema whitch was sharing the same platform with Saab 9000 and was using Ferrari v8 Engine.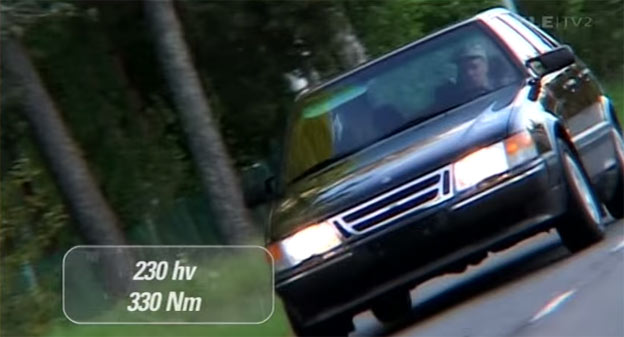 The aim of the project was to design a small displacement V8 that SAABs could evenutally sell in the US, as some of SAAB's potential US customers thought even a 4 cylinder turbo was too small and not powerful enough. Remember, SAAB was independent at this time. A few years later GM became the owner of SAAB, and the V8 project was shelved in favor of a GM-sourced V6, the engine that later was installed on the 9-3 and 9-5.
There is also a legend on this car: the leaders of Saab were invited from Sweden to Finland to see the V8. Driver from the factory picked them up from the airport and took the Saab Sweden men to the factory. In front of testing hall they asked, where this ugly prototype is, expecting for a junk-built half-made thing with a raw engine and so on. Driver showed at the car, which had picked them up earlier. "No wonder it was THAT fast…"