What a find from Valmet Automotive's archives…
In 1989, Uusikaupunki designers envisioned a 2-door Saab 9000 convertible (a concept was made of this) – and a hitherto unknown 2-door Saab 9000 sedan, as well! And that's not all, in addition to sketches, ASC or "American Sunroof Company", made Saab 9000 Coupe concept!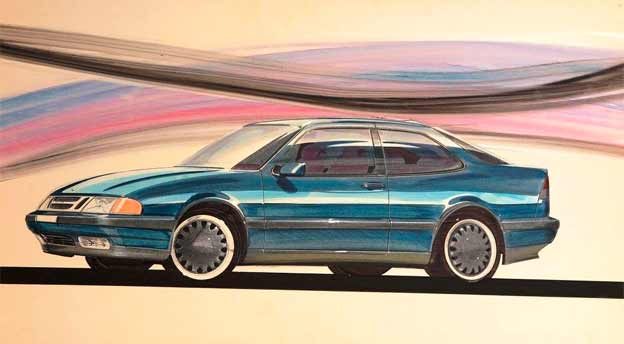 It toured the Saab car show scene in '90 but Saab dropped it before production. This Saab 9000 looks great as a coupe. According to what people say ,they would have sold a lot of them.
In 1989 a company called ASC decided to convert a stock Saab 9000 CD (4 door) into a Coupe. Both BMW and Mercedes offered big luxurious 2 doors for people who wanted to travel in comfort yet preferred the sporty styling of a coupe. Saab, had the smaller 900 2 door, which was more of a hatchback than a true coupe. ASC took the initiative to convince the Upper Management of Saab they had strategic opportunity. What better way than to just go ahead and build one. For all you people in the automotive industry, ASC is a name, an institution even as an automotive Tier One supplier to the world?s biggest and well known automobile manufacturers.
The donor vehicle was a 1989 Saab 9000 CD Turbo 5 speed. Literally hundreds of engineering hours went into the preparation and execution of this Saab 9000 Coupe.
Accomplishing the actual body redesign required relocation of the B-pillars, fabrication of new front doors, interior trim panels, new side window glass, new side moldings and C-pillar trim details. This entire conversion was performed with an eye for detail and structural integrity of the finished product.
In the second phase ASC and Saab focussed on giving the car a more aggressive look and ride. The car was lowered by 2 inches, fitted with 16″ ROH wheels and P225/50 tires. A front air dam with integral driving lights, lower body appliques, a rear valance panel with integral exhaust tip and rear decklid spoiler were all custom made. Finally, this concept car was painted in Cherry monochromatic paint.
Although the public and press were all in favor, Saab opted against bringing the car into production. This means that this Saab 9000 Coupe Concept Car truly is a one of kind piece of automotive history. Totaling all costs spent on this creation brings us to an estimated quarter of a million dollars.