Tim Smith is selling his lovely SAAB 900 T16S, it is tested until Dec 19 and passed the last test with no advisories.
The car has been an absolute pleasure to own and drive and owner will be very sad to see it go, but something really nice as come up and he need to sell the Saab to fund it. The SAAB has been cherished throughout its life by enthusiasts and has a massive history to back this up. All work done by SAAB, Two Stroke To Turbo and Carlsson's Automotive, and other Saab specialist and has been maintained regardless of cost.
The wheels are SAAB 9000 deep dish Super Aeros shod with Avon ZV7 195/50/R16 rubber. The wheels have been refurbed and are in A1 condition, the tyres were new at time of refurb and are excellent. The owner is convinced that any other car carries off 3 spokes like a 900 does and these are his favourite wheels of any of the many cars he has owned. They even have SAAB dust caps.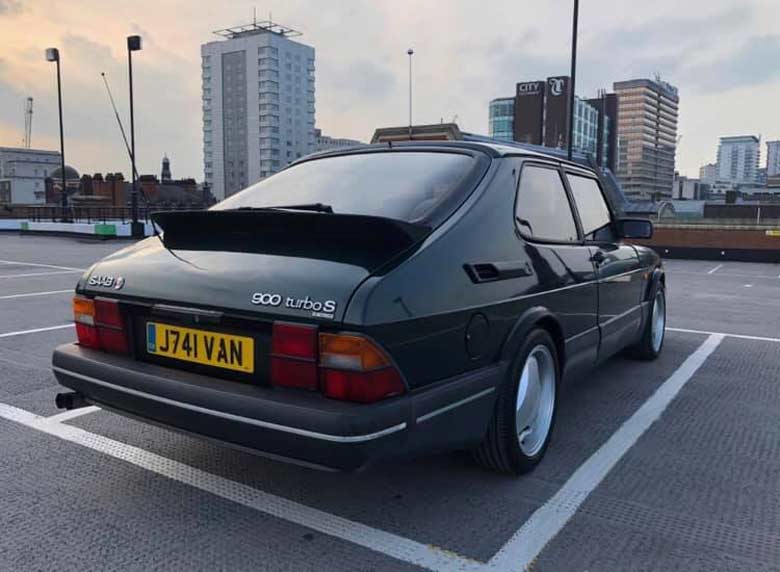 The front seats are black leather 9000 Aeros. The Aero seats were found to be a poor fit in the 900 so both sets were stripped down, the wings from the 9000 seats were grafted onto the 900 frames (By a Doctor of Welding Technology at Rolls Royce no less!) and then they were re-covered in 9000 Aero leather. They are fantastic to sit in and the forward tilt and other adjustments work as they should.
All the electrics work as they should and it has a SONY USB/CD player fitted.
The engine is the 2.0l 16V Full Pressure Turbo with the RedBox APC fitted and is giving 185BHP. It runs like a dream and has a massive whack in the back on boost. The suspension has been tastefully lowered on Lejeforse springs and Bilstein dampers.
The car has done 205k but don't let that put you off, it has been meticulously maintained. As you can see from the pics, it does look fantastic for a 27 year old car and attracts appreciative nods from the wise when on the move and a lot of positive comments when parked up. There are a couple of blisters on the paintwork but nothing that has broken through the paint, it really does stand well. It has some scratches but looks amazing when cleaned and polished.
Looking for £5k obo, car is Located in West Yorkshire (GB), and Any questions please ask Tim Smith.