The original idea of the Saab 9-3 Viggen was conceived in October 1994 by Saab Automobile AB's Special Vehicles Operations (SVO) team led by a Peter Leonard and the Oxfordshire, England-based TWR Group.
The Saab 900 Concept Coupe was the prototype for the Saab 9-3 Viggen as we know it back in 1995, a full four years prior to the public seeing it at auto shows and also available in dealerships around the world.
It was apparently understood that the performance and tuning of the project came from the TWR group and the design and styling from Saab Automobile's SVO team.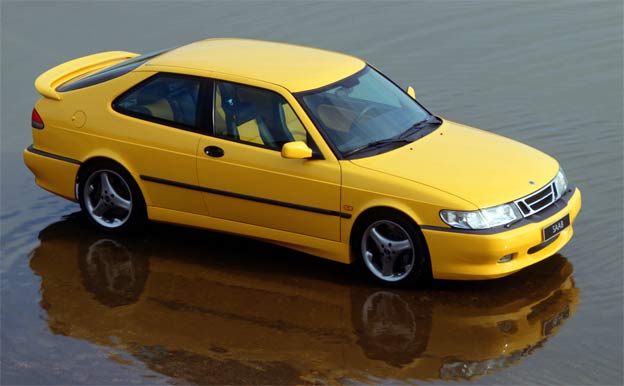 Once the project scope was ready, both the SVO and TWR teams started to engineer a high performance variation of a Saab 900 model in late 1995, which had its global debut at the 1996 Geneva Auto Show, then its North American debut alongside a blue convertible concept variation at the New York Auto Show. These two models were shown in the February 1996 issue of Saab Magazine, and as a result of the world debuts of both concept vehicles, the feedback was extremely positive with both SVO concept cars.
Nearly two years continued designing and engineering, and testing 900 Concept Coupe prototypes by the newly created SVO team from 1997 until 1999.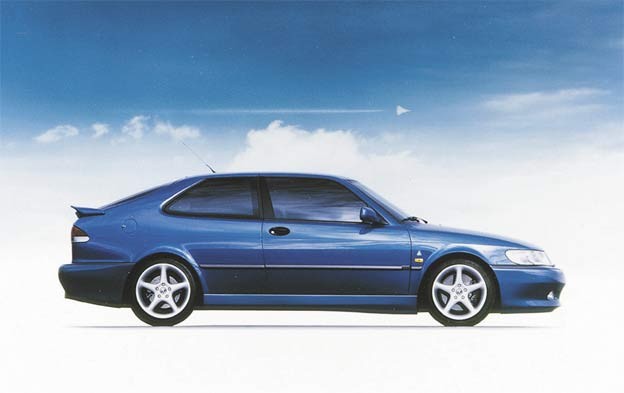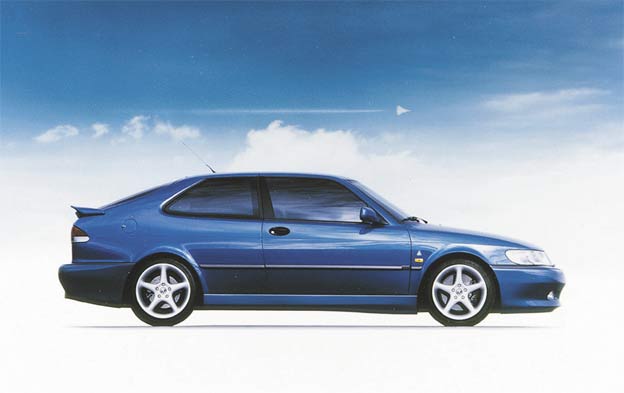 Saab 9-3 "Viggen"
By 1999, the the Saab 900 Concept Coupe was designated at as Saab 9-3 "Viggen". Named in deference to the delta-shaped Saab 37 Viggen jet fighter and  it's pronounced "VIHG-gun" (that's "ih" as in "in", not a long "ee" as in "vegan").
Less than 3000 Viggens total were made in 2000, with only about 800 total imported into the USA. My black 2000 4-door (well, they really call it "5-door") non-convertible is one of only 176 imported into the USA.
The first model year MY1999 for the Saab Viggen and its body continued to be manufactured at Saab's factory in Trollhattan, Sweden, then shipped in a climate controlled, sealed container to Uusikaupunki, Finland for painting and final assembly at the  Valmet Automotive factory. The painting of the first two years of the Saab 9-3 Viggen, were appropriately colored in "lightening blue", paying homage to the significance of the "thunderbolt" name.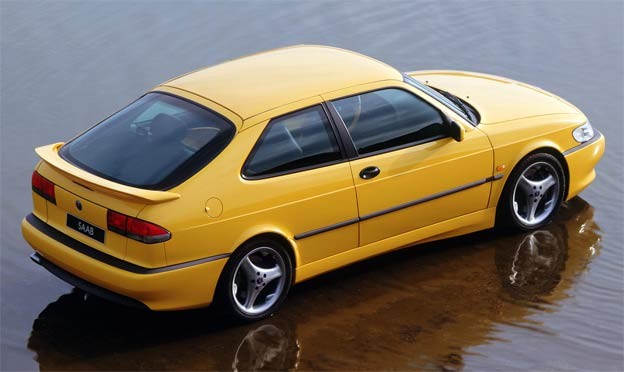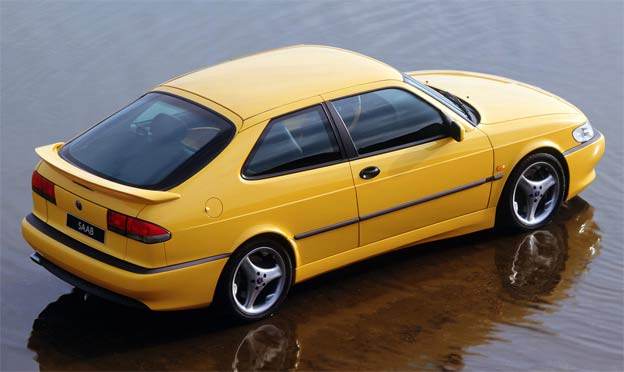 The Saab 9-3 Viggen Coupe went on sale in very limited number of Saab dealerships in May of 1999. Model year 2000 Saab 9-3 Viggen Convertible and 5-door versions arrived in showrooms during the fall of the same year.
Saab 9-3 Viggen is powered by a development of the current four-cylinder 2.3t Ecopower engine from the 9-5 saloon and estate, but with increased power and torque thanks in part to a larger turbocharger and a modified exhaust system. Such treatment means that it develops a vigorous 225bhp, which sounds pretty impressive, but it's the lashings of lovely torque – 252 lb ft (that's more than the Porsche 911's) between 2500 and 4000rpm – that gives the car amazing mid-range muscle and makes it one really fast performer. Saab promises 0-60mph in 6½sec and a top speed of 155mph.
Saab 9-3 Viggen Facts and Figures
BODY
Style Coupé, Convertible, five-door Hatchback
Trim levels one only
Length x width 464 x 171cm (189cm including mirrors)
ENGINE
Type and size transverse four in line, 2290cc
Power 225bhp at 5500rpm
Torque 252 lb ft at 2500-4000rpm
Valves twin overhead camshafts actuating four valves per cylinder via hydraulic tappets
Fuel system electronic petrol injection with turbocharger and intercooler. 68-litre fuel tank
TRANSMISSION
Type five-speed manual (automatic not available); front-wheel drive
CHASSIS
Suspension – front MacPherson coil spring/damper struts and an anti-roll bar – rear twist-beam rear axle with coil springs, telescopic dampers and inner and outer anti-roll bars
Steering rack and pinion with hydraulic power assistance
Wheels five-spoke alloy with 215/45ZR17 tyres. Space-saver spare wheel
Brakes ventilated grooved discs front, solid grooved discs rear with vacuum servo. Electronic anti-lock (ABS) and brake force distribution (EBD – electronic brakeforce distribution) both standard
For more reading, you can look over the original Saab 5-page brochure for the 2000 Saab 9-3 Viggen or read an excellent review from Canadian Driver magazine, and Abbott Racing dedicate page.
https://www.youtube.com/watch?v=TMHFPJfLu0Y
A Saab 9-3 Viggen Ad with a little bit of clipping and editing to fit "Ready, Steady, Go" by Paul Oakenfeld
"The SVO is here, but it's called a Viggen"
After this blog post we got an interesting reaction from our reader.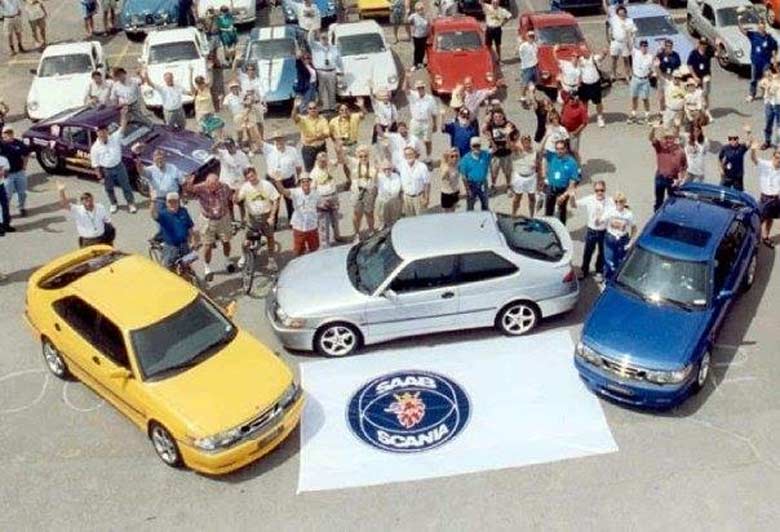 Actually, Bill Clark recalls the time of the presentation of this model:

Was working as a Saab Mastertech when this was announced. When I retired in 1997, I told one of the salesmen to let me know if and when it became available, to let me know. Got the call in early June of '99, "The SVO is here, but it's called a Viggen.". He had changed dealerships, across the river into NJ. Immediately went over and put a deposit on one, with the stipulation that I needed it to be there by a specific date. Needed it early enough to be able to drive to SOC99 in Colorado. At the time, they were all still in port. We had one of the first in the country. We were #50 registered for VFA in Georgia. We made it. They put us right up front for the group photo at SOC.