You are probably not aware of this interesting piece of information. Throughout its history, Saab has had "special editions" specific to almost all models, specific to global individual markets and countries where Saab cars were sold. As the classic 900 has been available for many years in many global markets, this model has had a huge number of "special" and "limited" versions. The Saab 900 thus had over 30 different special versions.
Only one of the over 30 special versions was a special version of the Saab 900 for the Dutch market, and this special version is "Forty". In the Netherlands, an sporty model based on the 16V Saab 900i was released as the 'Forty' in 1990. These three-door hatchbacks were finished in Le Mans Blue (or so called Embassy Blue) and came with 'Forty'-striping in light blue along the line of the body, 15″ short-spoke rims, electric pack, turbo spoilers and stabilizers. An unknown, but small, number of these cars were produced for MY 1989 in 1989 and 1990.
This was a super cool version, a solid "working man" Saab with solid injection engine and plush interior (some are also factory-delivered with LPG substructure), but also comfortable and luxurious thanks to the standard electrical package and sliding roof and a touch sporty by the Le Mans blue color, original delivered turbo rims, the forty striping and the standard spoiler. Unfortunately, the Forty's often suffer from rust (because of the proximity to the sea in the Netherlands). As far as we know, electric antenna was not standard on the Forty, but of course a nice option to supplement the electrical package (electric windows, mirrors, sliding roof) …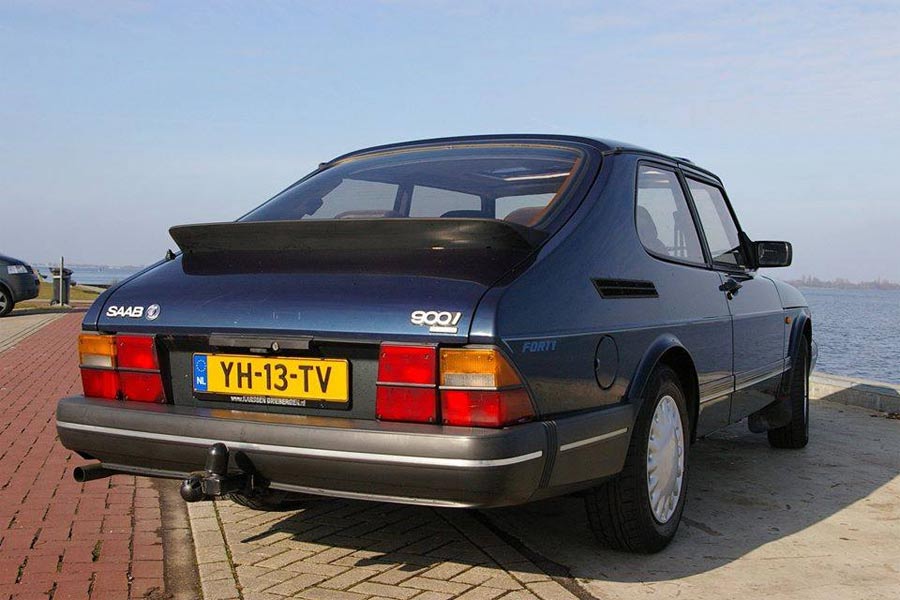 According to some unofficial information,, this version was only delivered in the Netherlands, this version numbered only 300 units. The advertisement mentions the original options of the Forty, from Saab Netherlands:
* Electric Sun roof
* Electrically operated windows and mirrors
* 3-spoke sports steering wheel
* Spoiler set
* Extra stabilizer bars
* Alloy wheels 15″ Sunburst
* Decent striping (which accentuates the sporty character)
* Le Mans blue metallic paint
Electric antenna was therefore not standard, but most have it on it (logical addition to the electric windows, mirrors and sliding roof). It is a standard 2.0i 16V, so with power steering, but ABS was not standard.
Interesting, "the Forty" is only available "that year" (we speak of 1990) and was introduced on April 6. In fact, it was only available for half a model year, since model year '91 was introduced in September 1990. Another nice detail is that the employee, who was working at Saab NL at the time, ordered the stickers for the Forty from 3M.