State police hope new surveillance video will help them find the driver of a pickup truck who was involved in a possible case of road rage that ended when a Saab 900 Convertible crashed on Route 16 in Rochester, New Hampshire.
Several people stopped to help the driver of the Saab 900 convertible after Sunday's crash, but police said the other driver had a responsibility to stop. Police said surveillance video shows a tan Chevy pickup truck with a yellow four-wheeler in the back that was also pulling a trailer with two red four-wheelers.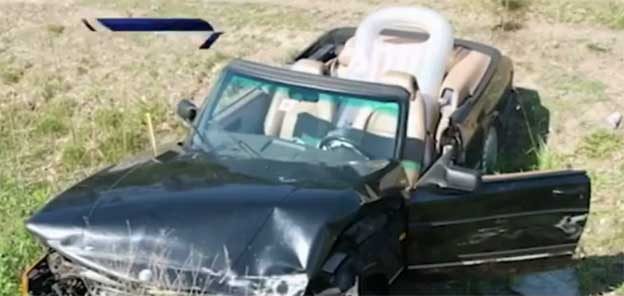 "Through the investigation, through witness statements, it does definitely feel like they were part of the reason that Saab convertible did crash that day," Trooper Jordan Kopko said. Police said the convertible hit another car and a guardrail before crossing through three lanes of traffic and ending up on an embankment.
Investigators said witnesses reported seeing the Saab and pickup truck antagonizing one another, switching lanes and cutting one another off. Witnesses told police that the driver of the truck appeared to be the aggressor. "A lot of the witnesses said it was consistently blowing smoke, black diesel smoke, out," Kopko said. "One time, it did it in front of that Saab in the right-hand lane."
Witnesses told troopers that was when the Saab lost control and crashed. The pickup driver did not stop. "One witness said he pumped his brakes and then continued on," Kopko said.
Police found surveillance video of a truck that fit the description given by witnesses, who also said the trailer had New Hampshire plates. "Another distinct characteristic is it has a push bumper in the front, a rather large one that goes out to the headlights," Kopko said.
Police said the pickup didn't hit anything, but Kopko said he can't imagine that the driver didn't know what happened. No charges are pending, but police said they want to speak to the driver.