Many Saab car owners have already done some tuning on their car or are planning it. Quite simply, performance is never enough, everyone is working hard to increase quite a lot of horsepower and increase their torque. Exactly in this blog we mentioned extreme Saab projects, with enthusiasts who drastically increased the power of their cars, such as the most powerful Saab Diesel with 315hp, or petrol with a staggering over 600hp (Saab 9-5 or Saab 9-3).
In addition to boosting power, many beautify the exterior and interior of the Saab car; perform complete or partial painting of the exterior of the car, or, for example, dress the interior into high-quality leather. Also, some elements and parts of the car are further converted into carbon fiber elements.
"Black and White" Saab 9-5 Project Car
In this blog post we present you an interesting Saab 9-5 project in which a car owner once invested a lot of time in engine tuning, but extra time and effort in styling the car to his liking.
This is really a rolling project, this enthusiast always has something new to do on his car. In due time, we found him on the Swedish website for car enthusiast "Garaget" where he presented the latest activities related to working on a car.
Over 300 horsepower
At that moment, the last thing he did on the car was change of rims and installation of a brand new carbon fibre roof. Neither is the engine neglected, famous Saab's 2.3-liter petrol engine is tuned by Maptun Performance and modified to ethanol, with these modifications the power was increased to impressive 320 Hp/450Nm, the "dame edna" chrome is painted white.
"Black and White" stylization
Airvents in the hood is not on my pictures but you can see more pictures on that on the link. Under the hood the 9-5 has a lot of paintbrushing related to the Saab Griffin symbol. According to the owner, this car was intended for export, but that was changed and sold to the owner in 2006.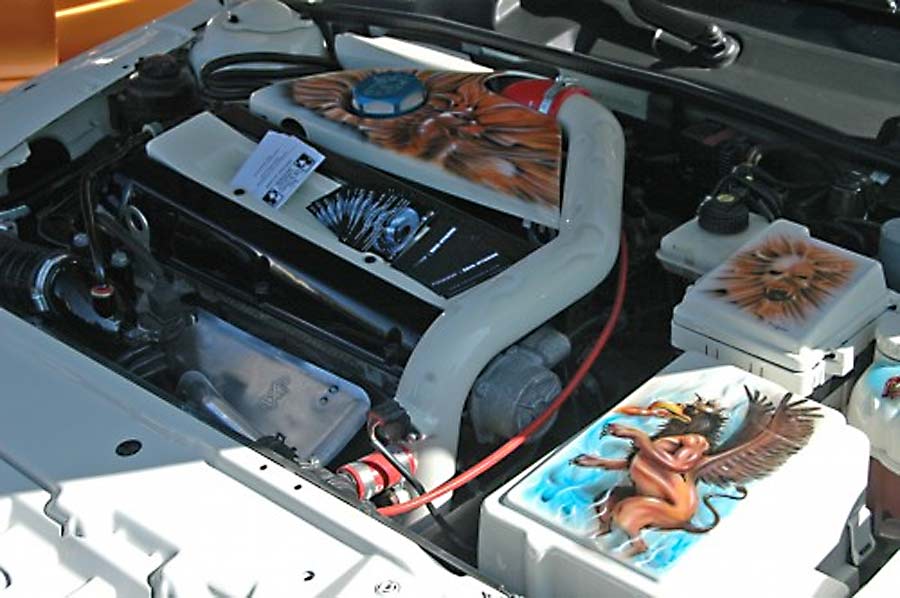 The interior has undergone many changes to the B-W style, the most striking being the dashboard and Aero steering wheel, which are painted white. The interior is dominated by Light beige leather (Front seats with aut. regulation + memory), followed by Hirsch aluminum pedals.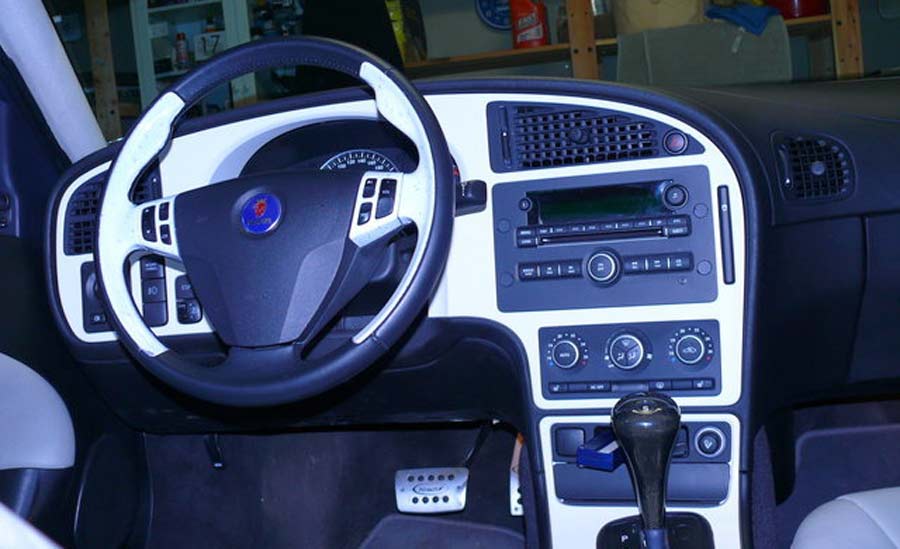 And that's not all, there are special black and white repainted alloy wheels Dotz Roadster 20″, stylish carbon mirrors, painted door handles, a rear spoiler that is also painted white, Chrome frames painted in the color of the car and more. Big discs are responsible for the braking, Slotted / drilled discs: 308mm front and 300mm rear. You can see the Air intake vents on the hood:
It's completely Black and White