There are certain Saab cars throughout the brand's history that fans adore but never got enough attention from Saab to bring out their true potential, in motorsport domain.
For instance, the Saab 9-5 always was an awesome premium car, one that managed to blend speed, performance, dynamics and pure chassis communication into a good looking package, but but it's almost never used in auto moto sports.
However, there are Saab enthusiasts who know to value this potential. One of them is young Swede Joel Wiklund (you can follow him on instagram @joelwiklund1796) who has significantly improved his Saab 9-5, in a visual domain and in the field of performance – the results are a real racing limousine.
He bought this Saab 2014 before he was old enough to have a driving licence. He live in Stockholm Sweden, he is 22 y/o and work as a development mechanic at Scania R&D. This Saab is originaly a 2005 9-5 2,0t Linear Biopower with verry poor extra features.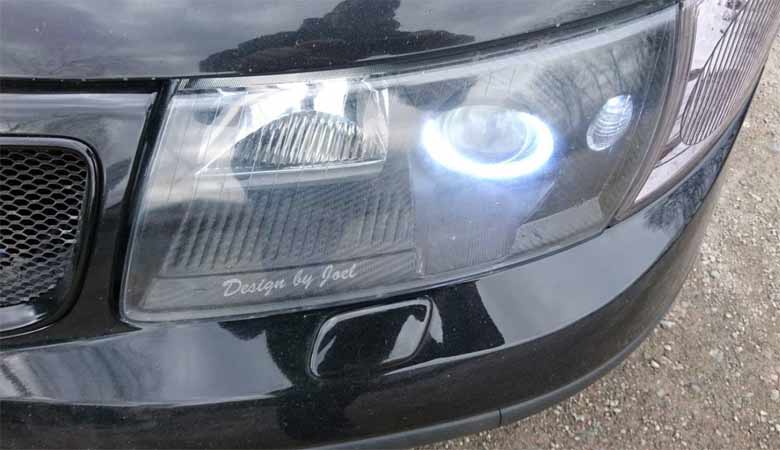 But, During the years Joel have developed it, step by step and now it´s more of a summer/track car. The engine itself is stock, but everything around it has changed:
Mitsubishi TD04-15T #6 turbo
240mm clutch from a Aero
3″ downpipe and exhaust from JT, 100cell race cat and two mufflers.
Aluminum intercooler in stock position.
565cc injectors from a Subaru STI model.
A intake cobra from Speedparts with 48mm in diameter.
Open air intake.
Wideband lambda.
EGT in the turbo manifold
Thanks to all these changes an upgrades, On E85 it got around 315hp and 440Nm, At least for now – Joel plans to continue with improvements. Below, here are some more significant changes:
Chassis:
40mm lowerd springs
Bilstein B8 sprint shocks
Maptun strut bar
Powerflex everywhere
SAS 25mm swaybars
Brakes:
307mm front disks from EBC
Yellowstuff pads all around
Built in brake cooling hoases throug the front dim lights
Dot4 race fluid
For rims and tires at the track joel use BBS ASA Revolution 18″ with Pirelli P Zero Trofeo R 235/40/18 tyres.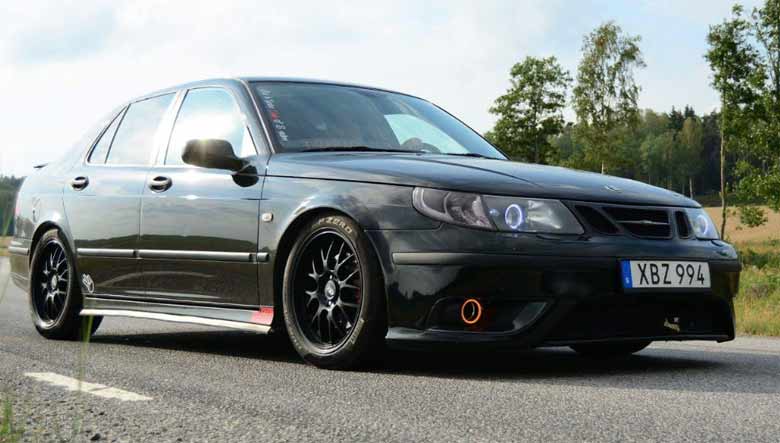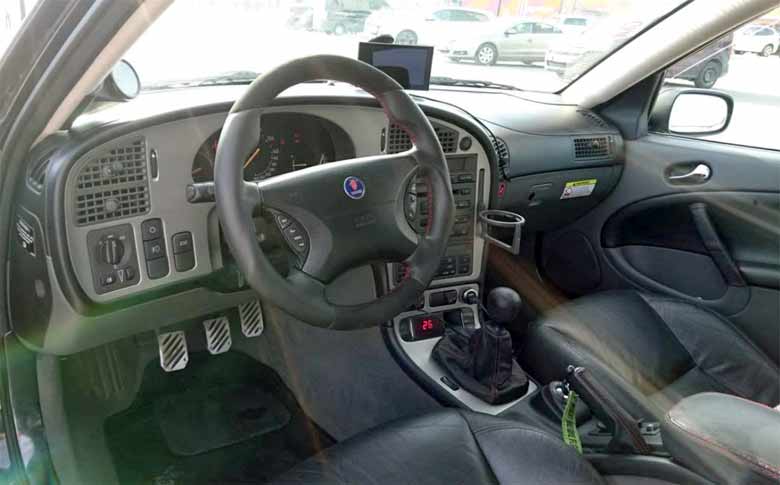 He did not ignore the aesthetic moment either, in Exterior, He home made angel-eyes headlights with carbon fiber vinyl interior. The front of the car is also crafted by him. It´s a 9-5 front combined with a front bumper from a 9-3 08 Aero.
He also added a roof wing from Tunstyle and a rear wing from Saab.
You can see more of the car at: (yes it´s in swedish)