Back in 2000, Saab has presented an special edition of Saab 9-5 at Chicago Auto Show – Saab 9-5 Gary Fisher Edition.
Visually this special edition 9-5 Gary Fisher has unique bumpers, side skirts, 17-inch wheels, a leather-wrapped steering wheel, and a standard roof rack. Also, in addition to the car – The $900 Gary Fisher bike – with Shimano components, an aluminum frame, and rock shocks-comes with it.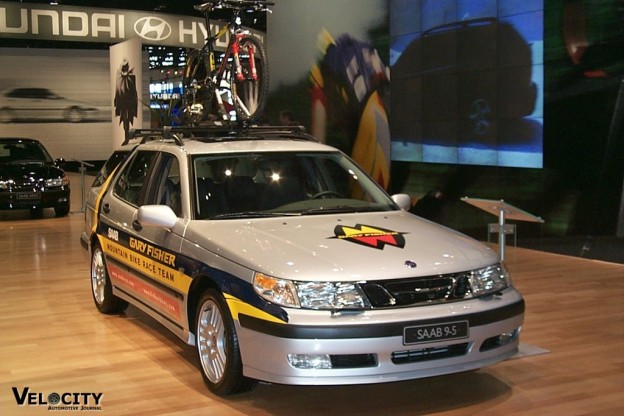 All this, a special version of  Saab 9-5 and the bike cost together $36,995.
In 1999, Saab Cars USA, Inc. and Gary Fisher – two brands with a passion for breaking the rules – teamed up to form the Gary Fisher Saab Mountain Bike Race Team. The partnership immediately proved its merits as the team garnered the world championship title and a world cup victory. This year, the partnership's success will be expressed even further as Saab introduces the Saab 9-5 Wagon Gary Fisher Edition.
The Saab 95 Wagon, with its standard 73 cubic feet of cargo capacity (with rear seats folded) and aircraft-inspired CargoTracks load securing System, is designed to accommodate nearly all needs.
However, for those who require even more flexibility, the 9-5 Wagon Gary Fisher Edition adds:
roof rack system with bike carrier and ski holder .
body-leveling system designed to maintain excellent driving characteristics and ride comfit, even when towing or heavily loaded
sliding load floor that allows easy loading of up to 440 pounds of cargo
strong cargo load net that separates the passenger complement and cargo area .
side cargo net A lz-volt power outlet in the cargo area
 cooling box for refreshments that can chill contents to 410 F.