The Gumball 3000 is an annual British 3,000-mile (4,800 km) international motor rally which takes place on public roads. It was started in 1999 by British entrepreneur, skateboarder and race car driver Maximillion Cooper.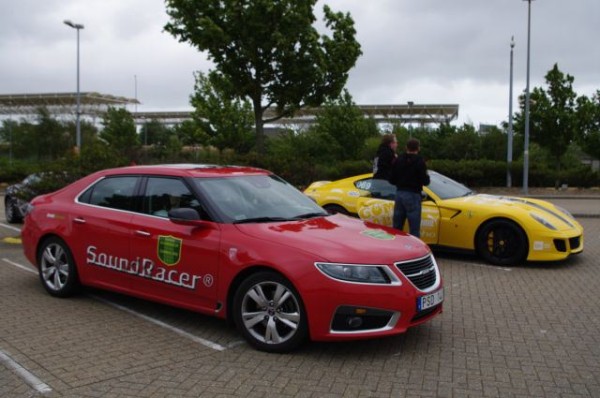 In 2013 the Gumball 3000 rally started in Copenhagen, passed through Stockholm, Helsinki, St. Petersburg, Tallinn, Riga, Vilnius, Warsaw, Kraków, and Vienna, and finished in Monaco.  
Kenneth Palmestål is a Saab 9-5 owner and his Soundracer the company 2011 took part in the Gumball 3000 rally as a product sponsor. That year new SAAB 9-5 Turbo had a great drive from Sweden to London, attending the Gumball 3000 start events, then a short visit to Nurburgring (unfortunately the Nordschleife was not open for tourist drive that day) on the way home. The SAAB is rock steady at the Autobahn speeds, the 1998cc 4-cyl turbocharged engine can use Bioethanol E85, 220 hp (164 kW; 223 PS) @5300 rpm.
SoundRacer gadget is programmed to deliver a high-revving sports car engine sound.
SoundRacer V12 in SAAB 9-5 on racetrack
Sympathetic gimcrack, you do not need to buy, just download free Android app: