Swede Mikael Bergvall has invested a lot of work, money and effort into his powerful car over a number of years. The result is a marvelous Saab 9-5 Sportcombi that develops over 400 horsepower.
The car is a Saab 9-5 Aero MY00 that was made in 1999, wich makes it the first year of the Aero-model. He bought the car in February 2012 and at that point it had just passed 150,000 km and was used as a Familycar by the previous owner.
at the very beginning of the project, improved the audio system into something a really serious Sound System producing just over 150db. But when he was tired of this type of (Sound) tuning, he turned to another type of improvement – Performance tuning. It started with a Stage 3 ethanol-convert with a 3″ Exhaust and about 310ps (supposedly).
Then when he broke his first Gearbox, he thought it would be a good idea to build a stronger engine with B234-pistons and conrods for more strenght.
After that, he went on to improve another B235 enginge and he started to build a new engine on the side and it really escalated quickly. The first great improvement for this engine was the addition of a new turbocharger TD04HL-19T #7. It was an excellent backbone for a real performance machine.
And when the engine was done Mikael started working in the chassis and tried trackdays for the first time, and then he was hooked.
The car is tuned with a full Biopower-software and makes 402HP (408ps) and 491,3ftlbs (666Nm) on E85-fuel with a softer torque-curve to prevent wheelspinn.
A video clip of the car in the dyno you can see below:
It has proven to be pretty fast as it pulls even with a 448hp BMW e90 335 and has easily outrun pretty tuned Volvos.
Below you will find a full list of improvements that Mikalen makes to his car:
B235R-engine
B234L-pistons (machined 1,3mm for B235 headgasket)
B234L-conrods
B234L-camsafts
Harder valvesprings
Stainless headers
Lightened flywheel (2,2kg lighter)
Removed and plugged Balance-shafts
Balanced crankset
Renovated enginehead
EXD (ARP-type) Headbolts
Mitsu TD04HL-19T #7 -Turbo
Kingcobra(Aero 06- intake pipe)
Custom Intercooler 550x330x76mm
2,5″ aluminum pressure pipe
HKS SSQV IV BOV
MAF moved to pressure pipe
Siemens Deka 875cc injectors
044-type Fuelpump mounted in-tank
3″ full exhaust with 100-cell race-cat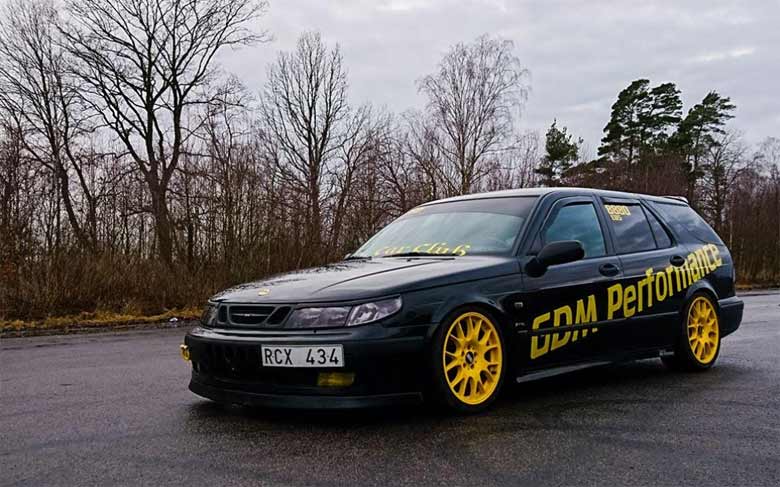 FM55B05-gearbox
Quaife LSD
6p sinterclutch with original aero pressureplate
D2 coilovers
Strutbar in front
BBS Challenge 18×8,5″ custom painted yellow
Federal 595 RS-R 245/35-18
EBC Yellowstuff front & rear with slotted rotors (bigger brakes is on the next-to-do-list)
Racing seats in front
Removed rear seat
Racing steeringwheel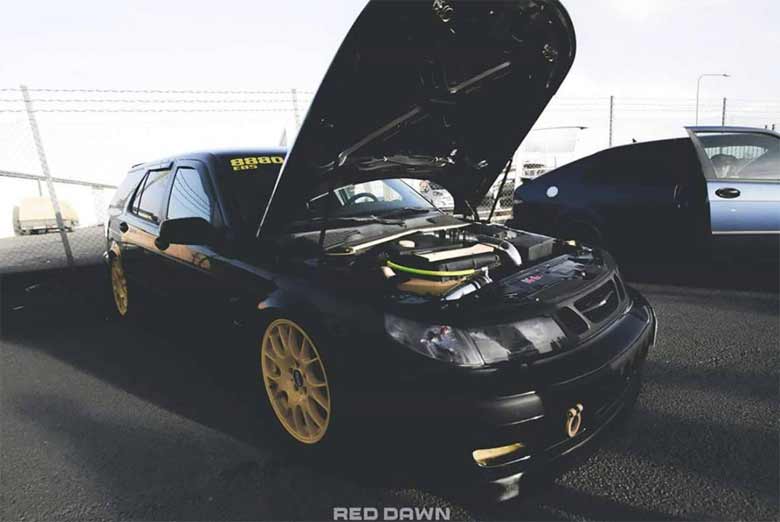 Also, you can follow Mikaela on the instagram.