This is a new project from the Nordic Tuning Dalarna workshop, backed by Swedish tuner Robert Uhr.
The basis of the project is BorgWarner twin-turbo diesel Saab 9-3 TTiD that is remapped from 180 hp to incredible 260 hp! Many Saab TiD and TTID owners have remapped their diesel engines and boast of more power, better economy and unchanged reliability. But mostly, this engine is re-mapped to approximately 210 hp – 500Nm (Stage 1).
The low pressure stage is a BorgWarner K04-2270 turbo (~190.000rpm maximum speed), and the high pressure turbo is a BorgWarner KP35-1574 (~260.000rpm maximum speed)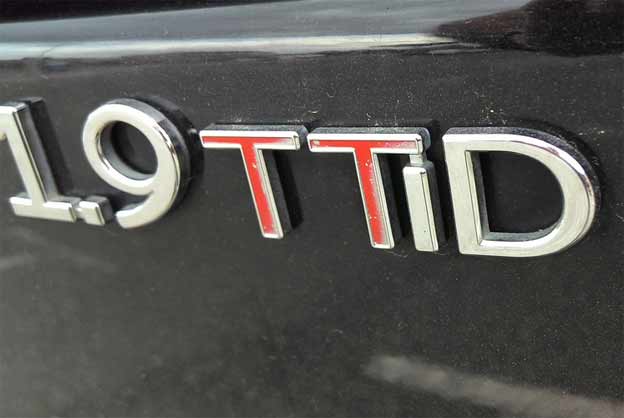 The average power gains from a remap on a diesel engine are in the order of 30% more power. The result of remapping that has achieved Nordic Tuning Dalarna is huge – nearly 100 more horsepower than the original.
In addition to remapping, on this car was removed DPF filter.The benefits of a DPF Delete include improved fuel economy, improved performance and no more limp home modes.
And here are the results of measurements from Dyno:
Original 182hp-395nm
(164whp-355wnm)
Dyno stage 2 DPF off – 260 HP-500 Nm–
( 233whp-450wnm )
60-100km/h:
4.9 sek
3.3 sek
80-120km/h:
5.9 sek
3.8 sek
100-150km/h:
9.8 sek
6.5 sek
Here is Dyno comparasion Chart od tuned Saab 9-3 TTiD: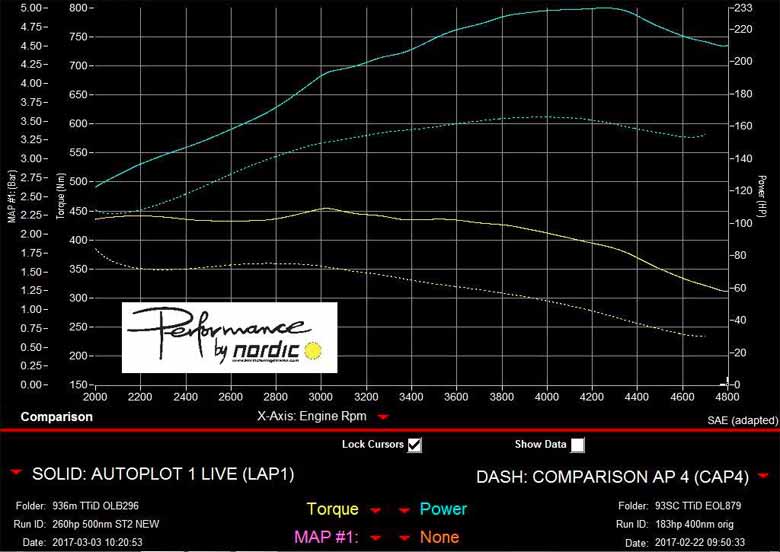 Saab TiD and Saab TTiD (Fiat's origin JTD) runs a Bosch EDC16C39 engine management system and comes in 150bhp and 180bhp formats. The only difference between these two variants are the software, and (twin)turbo of course, as the engines are 100% mechanically identical. So the 150bhp TiD can remap to either a Stage 1 factory 180bhp, and 180bhp TTiD can remap to either a Stage 1 205/215bhp or like Nordic Performance fast Stage 2 260hp/500Nm!
The introduction of modular engines and the huge leap forward in electronic control has meant that a TiD/JTD/TTiD remap can exploit the potential in this engine whilst staying within factory tolerances. A common rail engine runs at pressures up to 2,000 bar (29,400 PSI) and can inject up to 7 times per cycle per cylinder. The fuel is delivered to all injectors by one fuel rail "Common rail" and is electronically controlled for upmost precision of injection timing.