How to soundproof your vehicle? Although making your Saab entirely soundproof to outside noise is impossible, you can greatly reduce the amount of racket and vibrations by sound-deadening your car.
Not only will this create a better ambience within your car, but it will also allow your audio system to excel without the chatter or resonating panels or a trembling frame.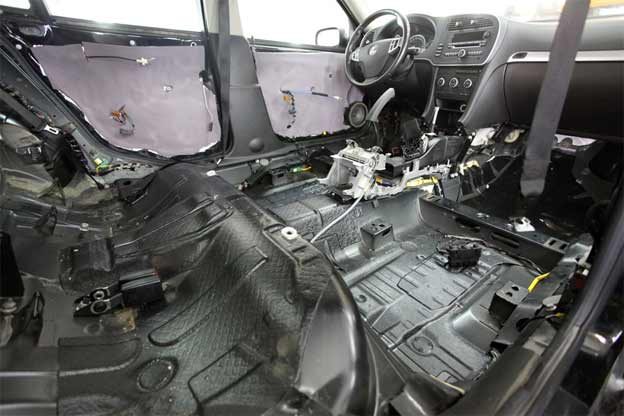 One proud owner of a Saab 9-3 from Russia has been further improved his car by Total Acoustic Insulation. Saab in stock is reasonably quiet cars, but after the installation of the custom exhaust the noise level in the cabin is lifted. This prompted the owner to consider the installation of additional insulation.
After installing the owner of Sab 9-3 said – a miracle happened! Installation of insulation did the company Auto Loker, and the whole process of installation cost is $385.
Also, This you can do yourself, Lowes and home depot sell a thermal barrier called "Frost king" or Silent Coat and it is a sound deadner. It works well for the price and is CONSIDERABLY cheaper than Dynamat or fatmat. Lizard skin, which is a sprayable coating with small beads of Styrofoam in it apparently works well, and you can make your own.