Arthur Kalinin from Russia rejoiced us with new great set of photos and sent an update on his Polar White Saab 9-3 Aero SporSedan (2.0 T, 210 HP, manual transmission).
He's a big Saab enthusiast, and he's constantly working to improve his favorite Saab car, both in appearance and design, and in the realm of performance. In the text below, you can recall the state of the car two years ago, and compare with the current situation.
Power Upgrade Saab 9-3 Aero
Now let's see what Arthur did on his car. Performance and power are never enough, which is why Arthur boosted the factory 210hp to new 247 HP thanks to BSR's chip tuning, which marks this improvement with "Stage 1".
To make it look and sound better, Arthur has selected a proven solution from Swedish house Simons Sportsystem – 2.5 Simons exhaust system – the sporty alternative to the original exhaust system. More power also requires better stabilization, that's why he paired the boost of power with with new 30mm Eibach springs and Strut brace by Speedparts.
Visual Performance Tuning
As you can see in the new photos posted by Arthur, you can see body enhancements at a first glance. First of all, the attention is paid to the beautiful alloy wheels that are "borrowed" from the Alfa Romeo brand. We know that Alfa Romeo and Saab share many parts and details, from engines to wheels of the same dimensions, so they are easily interchangeable.
This is his summer set of wheels and they come Alfa Romeo Giulia QV in dimensions 19×8,5 ET35 and 19×10 ET41, while the tires are dimensions 235\35 & 265\30. We have to admit that this Alfa Romes set looks phenomenal on the 9-3 model, especially in this Titanium color that fits very well with the white color of the body.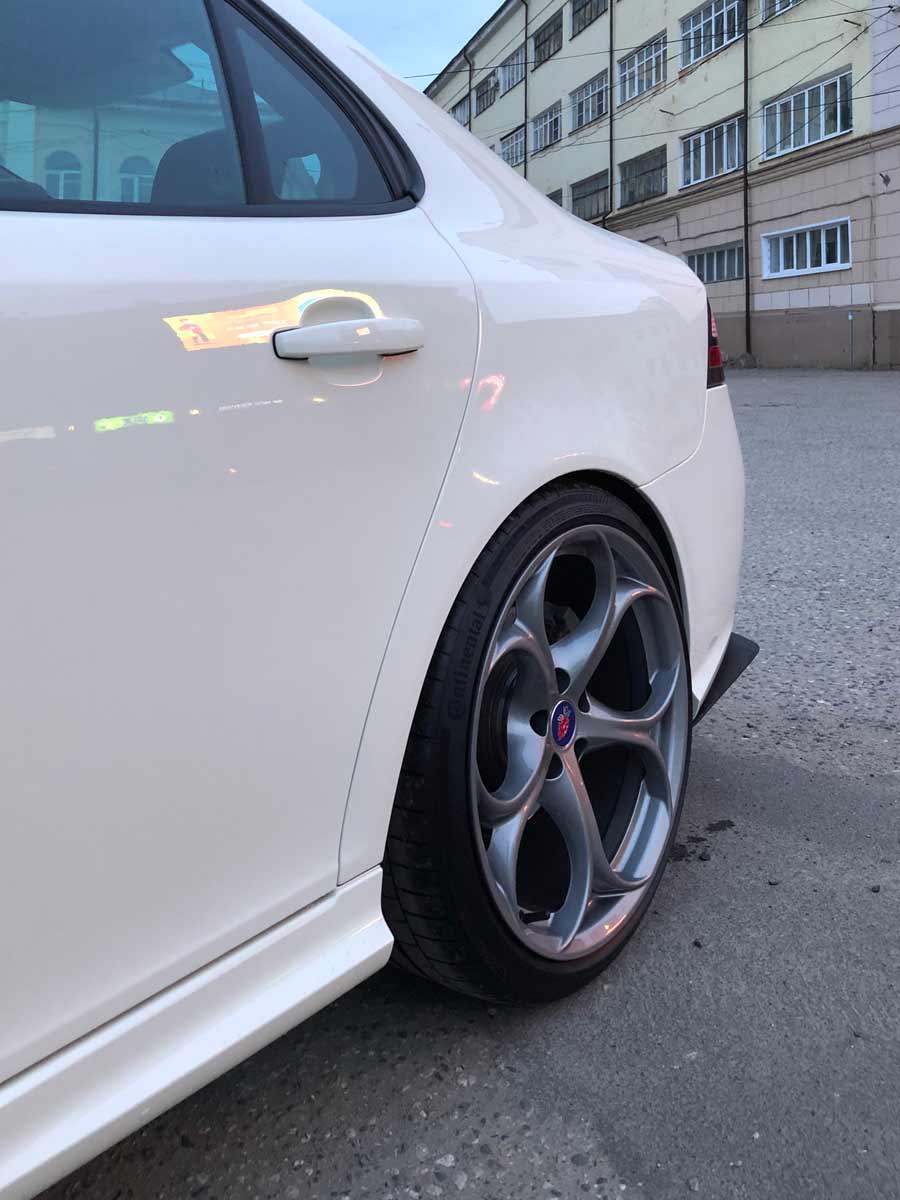 The Right Wheels + Tires Combination
As Arthur says, he enjoy not only the appearance, but also the accuracy of the speedometer. The fact is that in the board computer of SAAB, the factory wheel size of 225\45\18 was registered – and this is one of the main parameters that affect the speedometer readings – this is the circumference and outer diameter.
As he testifies, all the wheels + tires combinations that he used have a shorter length and outer diameter. Accordingly, his speedometer begins to "lie" in 5-6 km. In principle, it's convenient to avoid fines from speed-cameras, but still He is for better accuracy.
Because of all of the above, he opted for these combinations: winter 235\40\ 18, and summer set 235\35\19 and 265\30\19. Between each other sets, these two sets are maximally equal in length and diameter.
Aerodynamic improvements
Also visible at first glance are the rear diffuser and the front lip. The rear diffuser Hand-made by the KR-studio for aerodynamic advancements, in addition to improving aerodynamics, adds a more aggressive impression. We've already written about their products on this blog We already wrote on this blog about their products because they made a whole set of diffusers and splitters (side and rear) for the Saab 9-3.
The front offensive aerodynamic line further lowers and optimizes the front splitter made by the Polish company Maxton Design, which we have already written about. As the whole car is in Polar white, this splitter is painted white, and as such it looks even more massive and aggressive.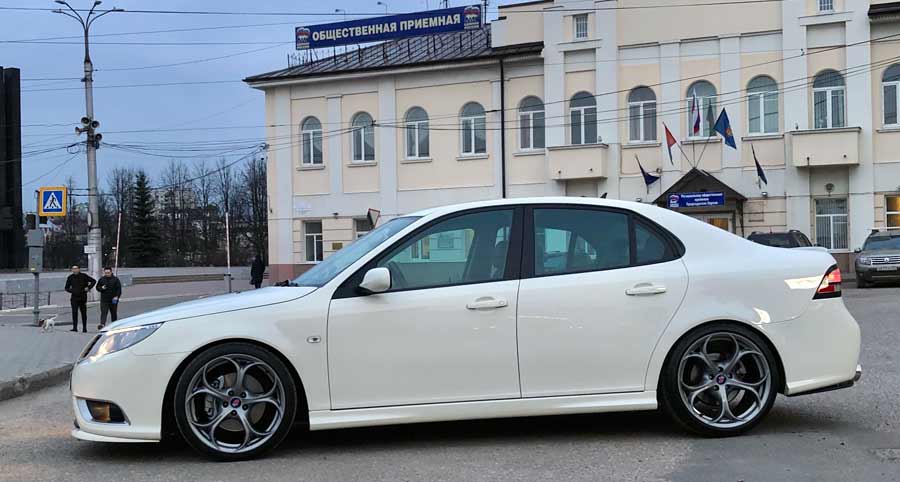 Solar Insulation
And that's not all. Arthur also improved the cockpit's atmosphere thanks to the additional cabin's solar insulation. He chose the foils to tint the windows – Air 80 by llumar that is a very light film that put on the windshield reduces the heat by 43% it stops 99% UV rays.
Thanks to the installation of the folis on the windows, the car looks more attractive from the outside, less heated in the interior and much more comfortable for cabin occupants.
And below read what this car looked like two years ago…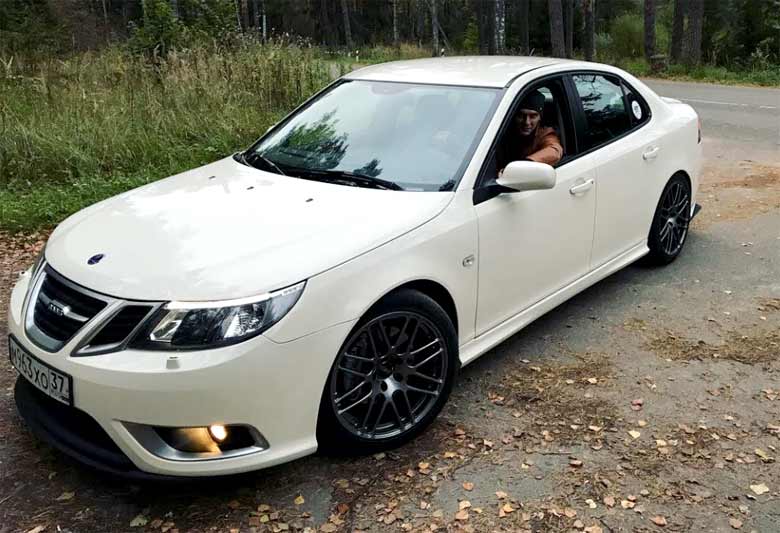 White 9-3 from Russia
State 2018
Arthur Kalinin from Russia has sent us once some fantastic photos of his favorite car, so here's a chance to show you these photos and to show the characteristics of the car in which a lot of effort and money has been invested.
Arthur owns the beautiful white 2008 Saab 9-3 2.0T and This is not a project-car in a tuning sense. He made several changes on this car, but they are not significant, so the car is almost all original – Swedish.
He did a light tuning (by Speedparts 247hp) on the car – Stage 1, he changed the springs – Eibach, chandged wheels – 18×8.5 et35\30, new Exhaust system SPEEDPARTS 2.5 from catalyst and put it new custom rear diffuser.
He loves his car very much and devotes much attention to it, and you can follow the whole evolution of his car on his Drive2 blog  and the special video channel, also on Instagram.