This is one of the last of the 2011 Saab 9-3s, and a very mature model by the time this car was made. You'll notice many things about it which are different to other 9-3s, even facelift "after 08" models. The front bumper is totally different (Griffin with lip) and looks fantastic.
As the seller James Martin declares, The whole car has an air of "Swedish gangster" about it. Seller bought it as he had several big trips across the country and wanted something nice to float around in, this fit the bill perfectly.He looked at many before buying this one and converting another car to this spec would be £3,000 easily.
He wanted something that was great to cruise in but also still a bit of fun on the back roads, this did the job and now he need to spend the money elsewhere.The engine is the 1.9L Twin Turbo Diesel, not to be confused with the cooking single turbo 150bhp version. This car is running a Nordic Tuning Stage 2 map with an estimated 250bhp and 490nm of torque.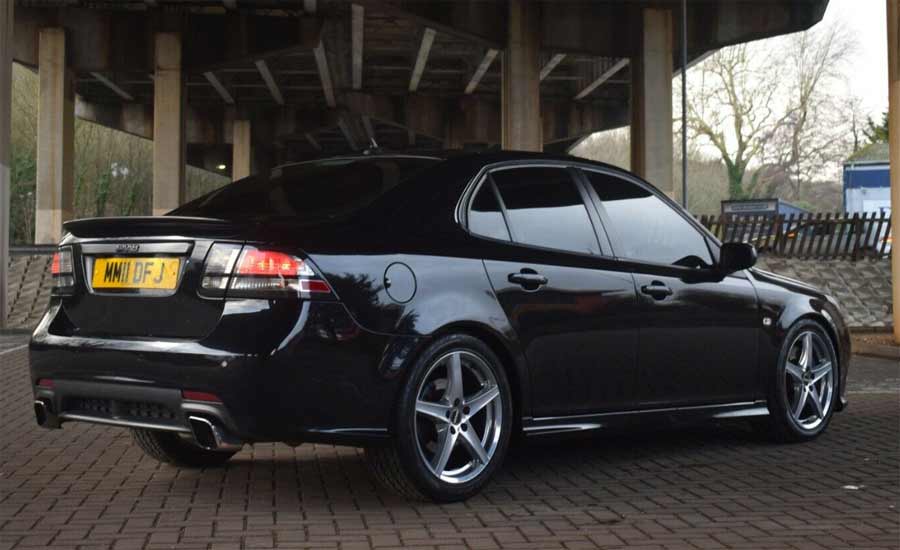 It also does 45mpg, and gives over 550 miles to a tank when cruising. The previous owner's brother was a SAAB tech and looked after the car for him. Quite a bit has been done including replacing the turbos (quite common apparently). Spec includes:
Xtrons Media Entertainment System (Bluetooth and Android system)
Pirelli P Zero tyres all round
Full Leather Cream Aero Seats
Auto Dimming Mirrors
Privacy Glass (it's limo-like in the back)
345mm Brake Callipers from a Turbo X
Bilstein B8 Shock Absorbers, Eibach Springs
Front Strut Brace
Power Folding Mirrors
Cruise Control
18″ Saab Ronal alloys
Eibach performance suspension springs
Full custom turbo-back exhaust, it sounds like the bleedin' Batmobile
After Market Xenon Head Lights
DRL Eyebrows
EGR Delete
Performance and Economy Remap
Swirl Flap Delete (These tend to fall into the engine and cause a lot of problem – same as with BMWs)
Heated Seats
Reversing Camera
Reverse Parking Sensors
Hirsch Style Spoiler (needs a repaint)
Included in the asking price will be a new set of pads on the back, a geometry setup and a full auto box fluid change. Occasionally the car gives owner a "water in fuel" error, but the previous owner assures him the fuel filter was changed. Car has marks relating to age. Paintwork not ideal and could do with a mop and paint in a couple of places.
Classified ad price: £4,750.00 and since this is a Classified Ad listing, There is no bidding on this item, so contact the seller for more information.Contact the seller via phone 07534982006, and car is located in Sudbury, United Kingdom.