With Vinyl Wrap (vinylwrapping, car wrapping) You can Create a cool and distinctive look for your Saab (and of course, car paint protection function). You can even try yourself to do, but it's better to Let professionals do their jobs.
Today's top-adhesive-vinyl technology is much more advanced, allowing pros and DIY detailers alike to get great-looking results. These cast wrap films come in high gloss colours, matte colours, brushed metal and carbon fiber looks.
Modern adhesive reaches its most sticky state after 24 hours, making it repositionable. The vinyl itself, a highly formable "cast" vinyl, has channels to allow air to escape, eliminating bubbles. The vinyl sheets can later be removed with relative ease. A factory laminate coating can make the vinyl wrap last up to 10 years.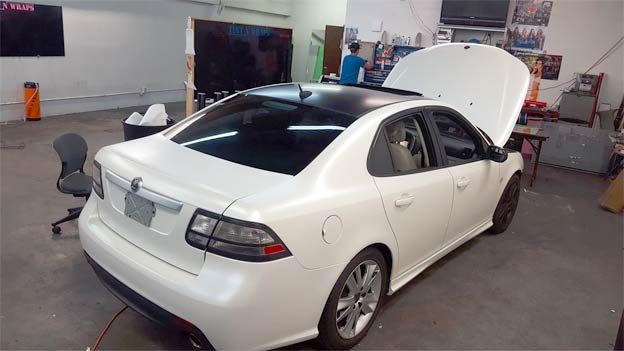 Cast-vinyl wrapping began mostly as a way to display advertising on cars, but a growing trend is to use solid colors as a replacement for painting an entire car.
Here's an example of color change, a Black Saab 9-3 Aero is enveloped in a Vinyl Wrap changed the color from black to Satin White Pearl, while the roof got Satin Black:
Here are the final result, This process is done by professionally studio Tint n Wraps: