As you probably already know, chinese BAIC the owner of Beijing Auto bought the rights to the Saab 2.0 turbo and Saab 2.3 turbo from GM in 2009, along with the rights to the platforms of the Saab 9-3 and first generation Saab 9-5.
The 2.3 turbo also serves in the base BJ80, the Senova D70 and the Beijing Auto BJ40, among others. And now, the famous Chinese manufacturer made a new "wonder" based on the same BJ80 platform, but this time it's a big six-wheel – modeled on a old Mercedes-Benz G-Class.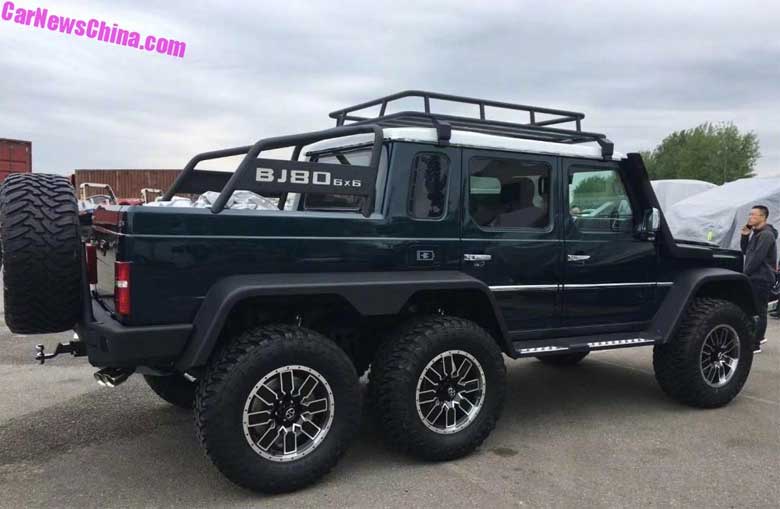 The monstrous machine was seen as it arrived at the exhibition hall for the 2018 Beijing Auto Show, where it will officially debut on Wednesday, according to China's auto portal carnewschina.com.
Beijing Auto BJ80 6×6 Monster has a old Saab turbocharged four cylinders in line transverse front engine with a maximum power output of 250hp available at 5300 rpm, and a maximum torque of 350Nm available from 1900 rpm, transmitted to 6-wheels and mated to a six-speed manual or a six-speed automatic.
The price of a basic model for customers in China is CNY 17,000 or €22,000. For this price you can get a version with a 2-liter Saab engine of 204 hp. A more powerful variant with an aggregate of 2.3 liters was estimated at 179,800 CNY (€23,300). The car will appear on the Chinese market in May.