Richard Göranssonand Team Tidö finishes fourth in the 2014 Edition of Scandinavian Touring Car Championship (STCC) after this weekend's finale at Mantorp Park. Roger Samuelsson in the team's third SAAB 9-3 took the 14th place in both of this weekend's race.
In first race, Richard Göransson failed to get his Saab 9-3 STCC going in time for the warm up lap and had to start from last position. The Team Tidö driver fought his way to seventh position ahead of Philip Forsman, Mattias Andersson and Emma Kimiläinen (Saab 9-3 STCC).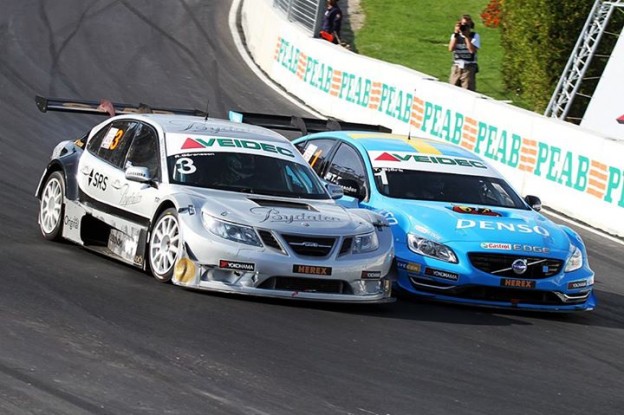 In second race, Richard Göransson held third position for the majority of the race, but was caught by Larsson who charged from sixth position on the grid. Larsson made his way past Göransson but could not create a gap to the Saab driver who finished just 0.172 seconds behind the BMW driver.
Jan "Flash" Nilsson was the only retirement of the race, coming to a halt in the pits due to a technical problem.
I race results
| | | | | |
| --- | --- | --- | --- | --- |
| 01 | | | Fredrik Larsson | 15 laps |
| 02 | | | Andreas Wernersson | +5.632 |
| 03 | | | Linus Ohlsson | +6.111 |
| 04 | | | Thed Björk | +6.375 |
| 05 | | | Daniel Haglöf | +6.825 |
| 06 | | | Fredrik Ekblom | +7.194 |
| 07 | | | Richard Göransson | +8.551 |
| 08 | | | Philip Forsman | +9.627 |
| 09 | | | Mattias Andersson | +10.060 |
| 10 | | | Emma Kimiläinen | +10.464 |
II race results
| | | | | |
| --- | --- | --- | --- | --- |
| 01 | | | Fredrik Ekblom | 15 laps |
| 02 | | | Thed Björk | +0.856 |
| 03 | | | Fredrik Larsson | +1.173 |
| 04 | | | Richard Göransson | +1.345 |
| 05 | | | Philip Forsman | +6.518 |
| 06 | | | Linus Ohlsson | +9.182 |
| 07 | | | Daniel Haglöf | +9.692 |
| 08 | | | Mattias Andersson | +15.294 |
| 09 | | | Emma Kimiläinen | +16.070 |
| 10 | | | Andreas Wernersson | +38.278 |