This remote controlled (RC) Saab 9-3 Aero 2.8T V6 SportCombiis a 1:20 scale model in Fusion Blue metallic, the Saab 9-3 Sport Combi launch colour.
This remote controlled Saab operates on 27MHz and has three adjustable frequency's settings enabling you to run three models at the same time. Inside the box you will find the remote controller and an extendable metal antenna that screws into the top of the remote controller. Along with the car itself you will find an instruction manual.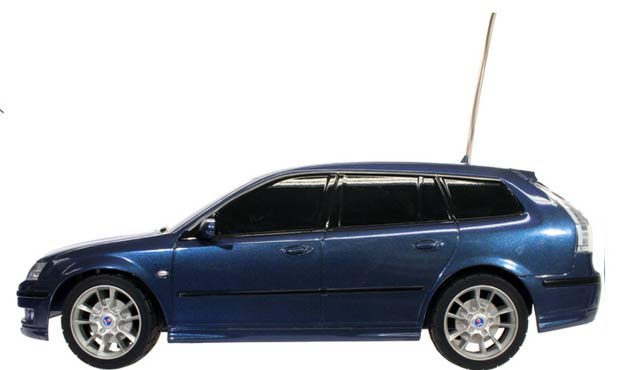 The remote controller takes 1x PP3 size 9-volt battery and the car takes 4x AA size 1.5-volt batteries. Note, you'll need a Phillips screwdriver to loosen the screws that hold the battery covers on both the remote controller and the car itself. This interesting thing about this car is that there are three adjustable frequencies that means you and your friends can get together to race three of the cars together. This model it was not only fast, it was powerful enough to climb over the edge of a thick-pile rug from the wooden floor and continue its progress across the carpet.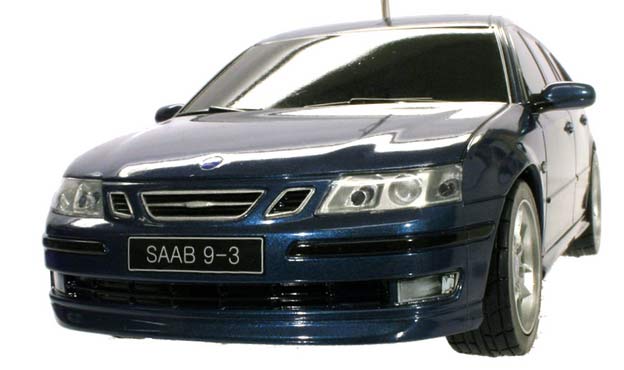 Saab 9-3 Aero 2.8T V6 SportCombi RC you can by in Speedparts online shop, and price is about 38€ (discontinued).