Here's an interesting sales listing for a "rally" Saab 9-5 Wagon car. Here's what the car seller says in the rich ad text…
"Safari 911s are all the rage right now. Stuttgart's finest vehicle, on big, knobby tires- sporty yet practical for today's pothole ridden roads. Sounds great doesn't it?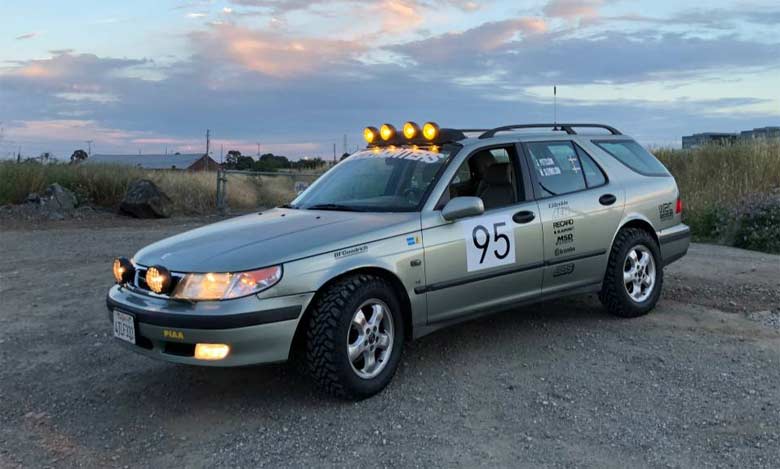 Well, good luck finding any sort of Safari 911 for under $100,000. But the joys of Safari ownership shouldn't only be for the well heeled. This Saab 95 Wagon gives you 99% of the Safari 911 experience for just slightly more than 1/20th the price.
When it comes down to rally pedigree, the fact of the matter is, Saab's chops may be even more significant than those of Porsche. Dating back to their 1950 victory at the Monte Carlo Rally, the Swedes have racked up hundreds of rally victories around the world. Although the Saab 95 Wagon was never a sanctioned rally car, the bloodline of this car eats, breathes and sleeps rally.
The knobby tires and lifted suspension make a car that is able to ford streams and drive comfortably along miles of fire roads. The larger tires also give it a smooth ride around town- it glides over speed bumps and potholes and has no problem driving straight across those pesky traffic circles. If Seattle neighborhood driving has got you down, this is the antidote. The rubbing from the larger tires is almost non-existent and they don't make a racket on the highway-like most off road vehicles do- making this a dual purpose rally and grand touring missile.

Continuing with the rally heritage, the "Swedehunter" is powered by a V-6 much like a Metro 6R4 Group B car but unlike the Metro, this car has a turbo which gives thrilling power to match the off road prowess. The motor runs like a top and had a cooling system rebuild just before driving from San Francisco to Seattle in May. Although the automatic transmission doesn't seem like the enthusiast choice, current WRC cars utilize sequential gearboxes and this is essentially the same.
The body of the car is in decent shape and covered in sponsor decals which look absolutely badass but correspond to exactly zero parts on the car. There is a decent size dent in the rear hatch about the size of the average American man's foot-but nobody will notice it when you are passing them on a dirt road, ripping the hand break and showing off the Scandinavian Flick skills that are magically bestowed upon you when you drive this car. There are also two supplementary light pods affixed to the exterior of the car for low light rally. They are fully functional and make you look like Ari Vatanen driving the 1981 Acropolis Rally.
In addition, the inside of the car exemplifies the style of interior design that the Swedes are notorious for-and I'm not talking about the sort that comes in 400 pieces and needs to be built with a single allen wrench. Five luxurious leather lined seats are the primary fixtures in the vehicle with seat heaters in both front and rear. They are comfortable and supportive with upholstery that is almost entirely unblemished.
Small, tasteful swathes of wood adorn the center council with a radio that features a hard wired AUX input for all of your listening desires. Air conditioning blows cold and strong which is certainly not something that could be said of the Lancia 037 you are cross shopping this with. The onboard computer is functional but has a few dead pixels- I can't say for sure but I would wager they just couldn't hang when the car went from a station wagon to rally machine.
As you search for a new car and your head is screaming for you to get something sensible, your heart always wants for you to unleash your inner rally legend. The only question I have is, why not have both? If you think you have the sisu to own this machine, please come take a look."
If you interested , contact seller of Saab Jack – call or text: ☎ (650) 302-0911 or reply by email:
[email protected]craigslist.org – car is located in South Seattle/Eastside, and price is $5500.