On Feb. 11 2011 he was deferred from donating blood at a local blood drive. Driven by dueling passions for photography and Saab cars, artist Dan Dowd, whose day job is that of security guard at the Bowdoin College Museum of Art, has created a body of work that is part of Light, Motion, Sound 2012, a collaborative exhibition by the Maine Museum of Photographic Arts and the Ogunquit Museum of American Art.
Dowd's photographic composition (Projekt 900) includes a catalog he produced based on a 1963 Saab brochure featuring a "new retro SAAB 900 Turbo offering" and the first opportunity for the public to see the vehicle in person.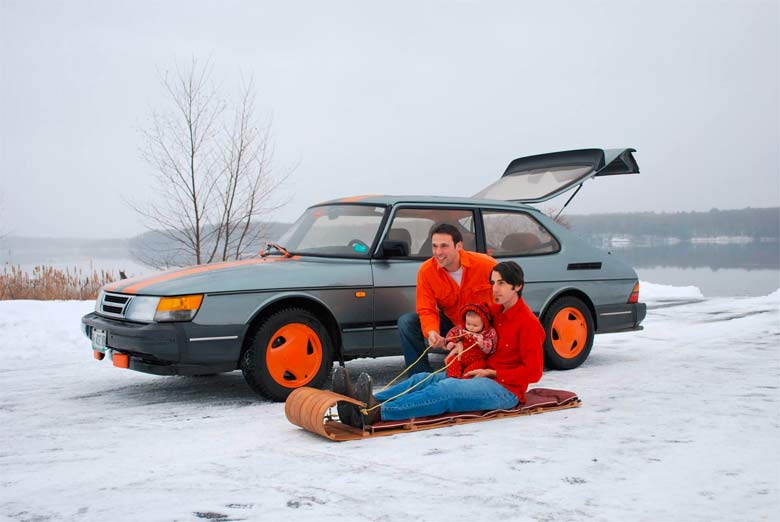 After being deferred from donating blood, artist Dan Dowd decided to take action and create an art piece in response to his experience. "I am an HIV-negative gay male in a 10-year monogamous relationship," Dowd, an artist living in coastal Maine, explained. "Being an avid SAAB fan and a lover of vintage items, I created a fictitious marketing campaign for a fictitious retro SAAB (my modified 1988 SAAB 900 Turbo)."
For this campaign (which includes printed brochures and postcards) Dan opted to photograph only heterosexual male models in domestic partnership and family situations.
He was interested to see how men would react to being asked, how they would respond while being photographed, and ultimately how they would respond to the photos when exhibited. Dan was interested to create something that would serve as an example of "normal" for the gay community.