A reader from Warsaw Agnieszka Bohosiewicz-Gabrowska wrote to us in order to promote the sale of her beautiful car Saab 9-3X TTiD SportCombi.
The car is really exceptional and worth the attention, so if you plan to buy a Saab car – Maybe this is the right choice for you. Here's what she says about her Sportcombi.
I'm offering the snow-white phenomenal Saab 9-3X SportCombi from the last year of production.
Because it was difficult to find the X in good condition in the Poland, we bought it from Italy, in 2014 with a mileage of 76k km, without any blemish.
The car has a styling package X – eg. carbon interior trim, leather upholstery, field sealed and styling accessories which is shared with the limited edition TurboX. The whole suspension is raised by 25 mm and reinforced.
Accident-free. Parking damages do not happen to me. The car is constantly garaged and always put in guarded car parks. It was rarely parked on the street when being in my hands.
The engine is a reliable 1.9 TTiD 180hp unit with TwinTurbo BorgWarner. It is agility vs mass is really impressive. Sensational dynamics (TwinTurbo) works well on the highway and also in the field.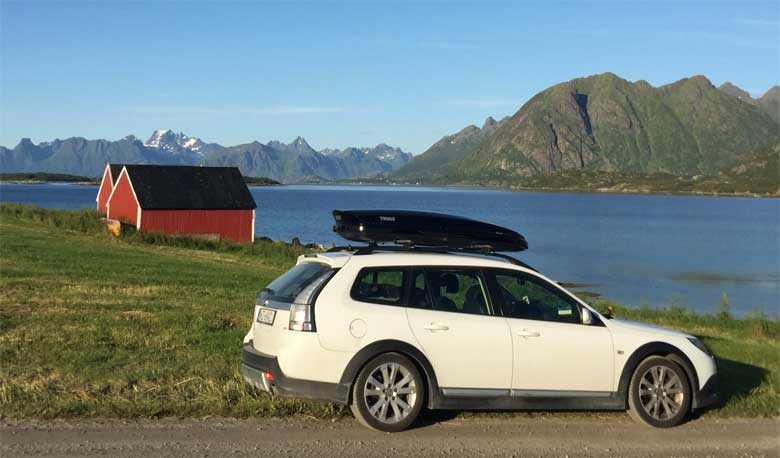 The fuel consumption varies from 6-9L/100km on the route to about 10L in urban. But I'm not driving frequently this car in the city. The car has never stopped on the road and has not made any unpleasant surprises. It is ready to go for holidays. It has fresh oil, filters, timing gear and new premium tires on original 17″ wheels. Tires 16″ for winter are also in set.
I've done absolutely everything what could be done in this car.
This year we are preparing for a winter travel to see aurora, so must be in perfect condition, especially that I will go with my family.
With this car, we have been visited many countries: Italy, France, Germany, Austria, Norway, Finland, Sweden, Slovenia and even we've been to NordKapp (10k km, 3 weeks long trip). Generally it was our car for family trips.
The detailed description and more photos are available here and of course here: http://saabvoyage.com
So why do we sell such a gorgeous car?
We got the chance to buy the Saab 9-5 NG which we have always dreamed of.
And it was very impulsive purchase, made by the heart :)
The car is waiting for you in Warsaw, Poland.
Contact e-mail: [email protected]