Saturday's opening STCC race in Stockholm provided its fair share of drama, as predicted from the combination of reverse-grid regulations and the tight confines of the Solvalla circuit.
Unfortunately, Team Tidö again suffered from the sort of Heat 1 jinx that has compromised its fortunes so far in 2014, with Richard Göransson (Saab 9-3 STCC) sent into retirement after clashing with WestCoast Racing's Philip Forsman.
Roger Samuelsson came home just outside the top ten in 11th, while series returnee Janne "Flash" Nilsson rose from last on the grid to a strong eighth – his fastest lap impressively proving quicker than that of race winner Andreas Wernersson.
Race 2 will mark a golden opportunity for Richard to strike back, as he sets off from the front row behind the wheel of his SAAB 9-3 for the first time this year.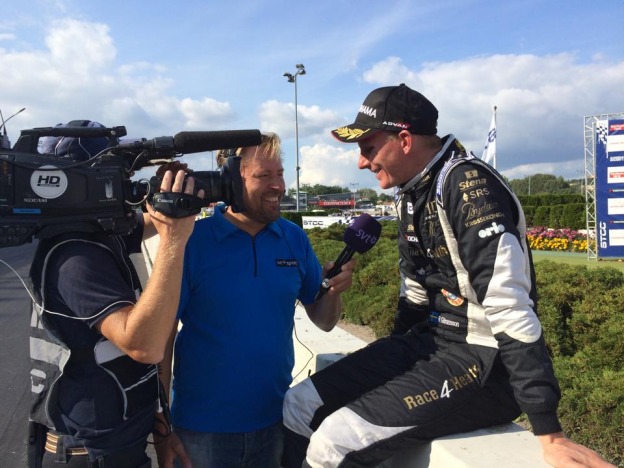 Richard interviewed by Swedish television after returning to the STCC podium. P3 at Solvalla – but it could have been better still. Stuck in first gear on the very final lap, Richard was passed by Philip Forsman on the sprint towards the flag, having previously run a solid second throughout the event.
Team Tidö back on the podium for the first time since Gothenburg, however – not a bad day at work!