Another Podium for Richard Göransson in Saab 9-3, and dreat to see Swedish prince Carl Philip win his first STCC race. Prince Carl Philip claimed a sensational first ever STCC victory in a controversial second race at Falkenberg in Sweden.
"This is just amazing, I can't quite find the words for it. I really had to fight for it and the feeling right now is just great," said Prince Carl Philip.
PWR Racing's Emma Kimiläinen in Saab 9-3 who has had a strong recent run of results with two podium finishes in the last three races, but today she had to be content with P9 in both race.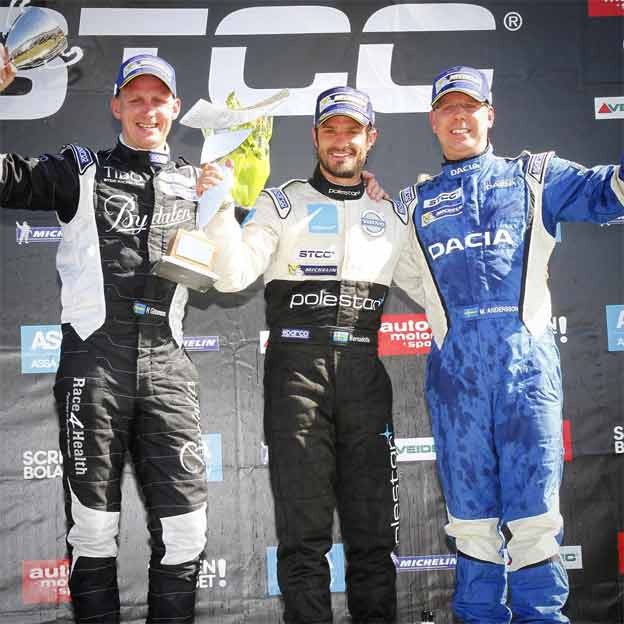 Results – STCC Falkenberg 2015
Race 1 – Top 5
1 Fredrik Larsson BMW SR 27 laps
2 Fredrik Ekblom Volvo S60 +1.408
3 Thed Björk Volvo S60 +2.000
4 Richard Göransson Saab 9-3 +7.029
5 Erik Johansson Kia Optima +12.814
…
DNF Carl Philip Bernadotte Volvo S60
Race 2 – Top 5
1 Carl Philip Bernadotte Volvo S60 27 laps
2 Richard Göransson Saab 9-3 +0.612
3 Mattias Andersson Dacia SE +3.482
4 Erik Johansson Kia Optima +11.419
5 Kevin Aabol Kia Optima +11.584
…
DNF Thed Björk Volvo S60
DNF Fredrik Ekblom Volvo S60
Q1 – Top 5
1 Fredrik Ekblom Volvo S60 43.078
2 Fredrik Larsson BMW SR +0.011
3 Richard Göransson Saab 9-3 +0.084
4 Thed Björk Volvo S60 +0.297
5 Erik Johansson Kia Optima +0.336
…
10 Carl Philip Bernadotte Volvo S60 +0.769
Q2 – Top 5
1 Fredrik Larsson BMW SR 43.194
2 Fredrik Ekblom Volvo S60 +0.227
3 Thed Björk Volvo S60 +0.228
4 Richard Göransson Saab 9-3 +0.287
5 Erik Johansson Kia Optima +0.571
Championship standings – Top 5
1 Thed Björk Volvo S60 208 points
2 Fredrik Ekblom Volvo S60 199 (-9)
3 Fredrik Larsson BMW SR 188 (-20)
4 Richard Göransson Saab 9-3 128 (-80)
5 Mattias Andersson Dacia SE 118 (-90)