1979, Curvin O'Reilly wrote "The most intelligent car ever built" tagline for Saab. That our Saab has always been not only intelligent but quick.
This fact was often used by the advertising department (Or more precisely – Various Advertising agencies) in the promotion of various Saab models. The first comparison between the Saab and the respected Porsche athletes was in the commercial for the Saab 900 (in 1979, by O'Reilly).
He used Saab's success in speed competitions: "Against such cars as the Porsche 924, the Datsun 280Z, and the Alfa Romeo Spider, a Saab Turbo won 1979 SCCA Showroom Stock A Championship.
And against the clock in two years of road test – all of '78 and '79, four cylinder, front-wheel drive Saab 900 Turbo was faster than number of other cars on the Road & Track slalom cours, among them two Ferraris, two Jaugars and a couple of Porsches, including Porsche 928".
A little later, and the Saab 9000 was compared with Porsche cars. There is a advert published in some Cars magazines about 24 years ago from the 9000 Aero as a response to an ad of the Volvo 850T5. Volvo put and ad saying the 850T5 was "faster than a Ferrari 355 (2,8 seconds faster) and a 911(2 seconds faster) in 50-70mph in 5th gear".
Few days after that Ad in magazine, Saab put its Ad, taking the same data that used Volvo (from Autocar magazine) and then did some reference as the great performance of the Volvo, but they forgot to include the Saab, that is faster than the Volvo in 1,6 seconds.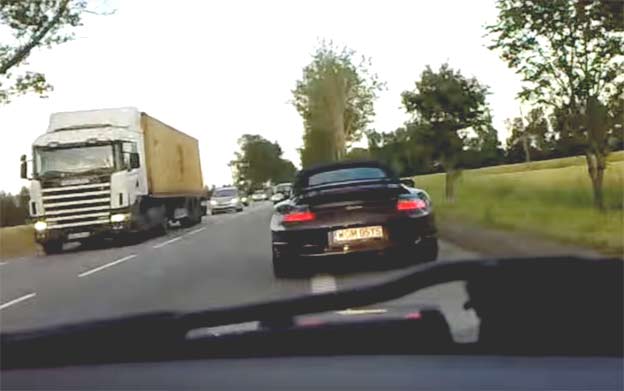 Once, Saab allegedly used to claim in all Saab 9000 Aero brochures that 50-70 mph the Saab 9000 Aero was faster than a Porsche 911 and a Ferrari. Autocar magazine then published this list:
Saab 9000 2.3T 5.6s
Lamborghini Diablo SE 6.3s
Porsche 928 GT 6.5s
Lotus Esprit S4 6.8s
Aston Martin DB7 7.1s
BMW M3 7.1s
And that's not all, the "myth" is emphasized by mentioning this comparison in the popular "Top Gear" TV Show. It was the one where Jeremy Clarkson  said that Saab 9-5 had quicker acceleration 40 -70 than a Porsche turbo. Also, Wikipedia suggests 50-75 is quicker than a Carrera 4S.
And in fact, there is truth in all this, but… The Saab 9-5 (and 9000) is a very nice compromise "between a people carrier, functionality, fuel economy and fun, but it is not a sports car". In its essence, this car is not a real sports car, but It's still significantly faster than the average car on the road :)
Also, see this: