SAAB, For many being the underdog in the aftermarket parts and accessories world is actually why we love this Swedish marque so much…all the DIY projects!
One of those projects that always seems to grab attention is the fitment of a new car audio head unit or tablet. Technically, many SAAB owners can jump right in and apply themselves. Often where things fall short is the final finish. That final piece that ties all your work together.
Just one week ago, Jason Eidsvik of saabcentral.com stumbled across a Facebook post showing some pictures of this remarkable fascia piece for the 1998-2005 SAAB 9-5. Wanting one for himself, he followed the post back to a Scandinavian board and contacted who he believed to be the owner, Lauri von Schrowe of Finland. Come to find out Lauri, a huge SAAB fan was really hoping to bring these to market a year ago but other demands got in the way. Lauri's vision was ignited by this new connection and within a week these two have brought Lauri's design from prototype to production. The boards are buzzing!
This product, being produced under Lauri's brand ShellFant, remarkably updates the center console in a way that is as unique as SAAB itself. The piece is laser cut and shaped from acrylic glass. Every detail is accounted for, all the way down to the laser etched SAAB logo! The SID and ACC display themselves beautifully through the material and every button is thoughtfully acknowledged.
"SAAB's… beautiful interiors, good looking, nice seats, it's modern." "Then the dashboard hits you…clunky, gray, a cassette player?" "It needed some love" – Lauri von Schrowe, ShellFant
At launch will be 2 models that accommodate the slight differences in SID units across the model years. Of these two models will be the option to order for either a 7" tablet or a double DIN sized head unit. Von Schrowe, even includes a printable "exact fit" template to ensure fitment for your project before you order.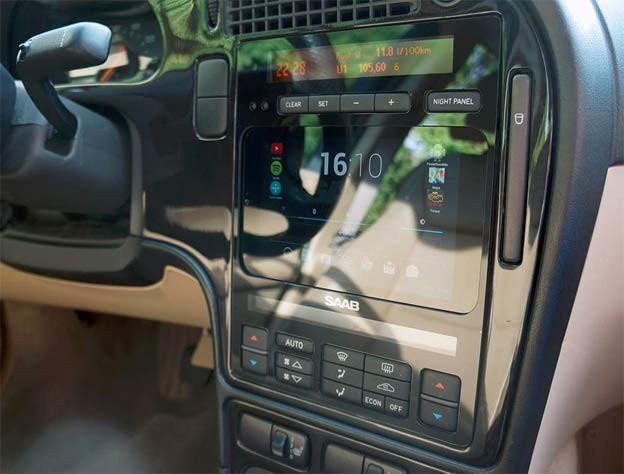 The product launches on February 16th 2016 and ships to Europe, Scandinavia and North America. Additional products are already in the works for additional SAAB models. Lauri's store page Shellfant is located here and is also integrated into his Facebook page which is a great place to drop your questions and discuss project ideas with other owners.
Price of this superb SAAB 9-5 1998-2005 Center Console Tablet Install Face Plate SAAB 9-5 1998-2005 is 70€.