Traditionaly every Saab is one of the safest vehicles in its decade. Whether we speak of the Saab 99, Saab 900 or 9000, the contract to build a safe car is firmly rooted in the Saab DNA.
The Saab 9-5 NG is no exception and achieved excellent results in the Euro NCAP crash test at his appearance.
 How safe is the big Swede in real life, which could experience a 65-year-old Saab drivers from Austria. His Saab 9-5 V6 XWD NG from 2011 did not come in time to the A1 motorway to a standstill and went under a cargo-trailer. (Local source) 9-5 remained in one piece, as well as his driver.
Accidents like these are the true nightmare for every driver and often do not have good end.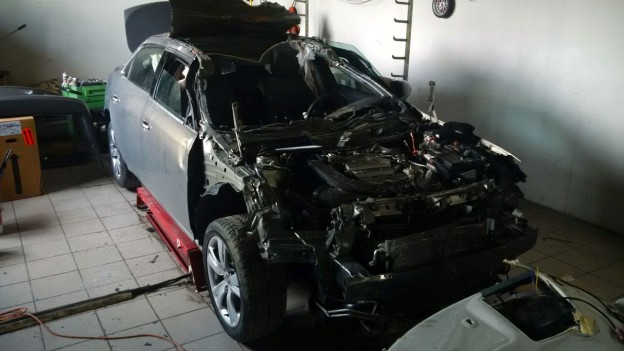 The vehicle structure is extremely stressed at a underpass, often collapses the passenger cabin.
 How this can end, not need to describe. The driver of the 9-5 NG was lucky and was able to leave with slight injuries the vehicle itself. The structure of the 9-5 and has kept the Saab by he protected the life of his driver, fulfilled his mission.
TheSaab workshop, which informed us about the accident, is very impressed with the behavior of the body in this serious accident.The images of the vehicle showing that the impact energy has been derived to the C-pillar.