NEVS announced today receives New Order for 20.000 9-3 EV (Saab 9-3 EV platform) from Chinese Huateng Company, reports P4 West radio. Electric car company Nevs in Trollhättan has signed a strategic cooperation agreement with the Chinese company Huateng said to be worth 8.5 billion SEK or USD 1 billion.
A couple of weeks ago, Nevs announced the sale of 150000 9-3EV (+ 100000 EVs) vehicles to Chinese Panda New Energy company: 150,000 cars until the year 2020, services and another 100,000 other EV's. The total value of the agreement is 78 billion RMB or USD 12 billion.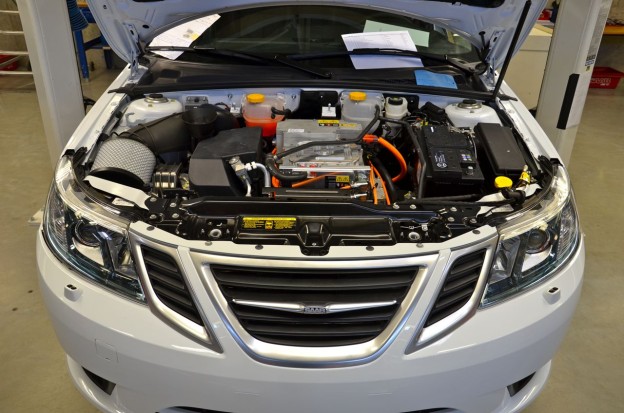 When the Tesla Model S debuted in China in April 2014, the country was embroiled in a heated debate over how to balance economic growth and environmental protection. Taking advantage of the national discussion—and China's luxury goods consumers—Tesla successfully promoted its low-emission vehicles in the Chinese market, selling more than 1,000 models within its first two months of operations in China.
However, foreign and domestic carmakers in China's electric vehicle industry still have a long way to go. Electric vehicles (luxury sedan), which together with hybrid and fuel cell cars are commonly known as new-energy vehicles (NEV), are not a new concept for Chinese policymakers. In 2012, the State Council released its Notice on Energy Conservation and New Energy Vehicle Industry Development (2012-2020), calling for the production and sale of at least 500,000 electric and hybrid vehicles by 2015. Policymakers have said they hope to increase that number to 2 million by 2020.
Finally, in July 2014, the National Government Offices Administration declared that from 2014-2016, no fewer than 30 percent of all government cars purchased each year must bebattery-powered, gasoline-electric hybrids, or other new non-polluting vehicles. Government procurement will include both domestic and foreign-produced models, though all models have to be physically produced in China; foreign imports cannot qualify.