Swedish electric car maker NEVS takes a whole new approach to creating intelligent electrical roads, a whole "ecosystem" of different networks: transport, energy and information.
This network, called "Tri-network", was opened on Wednesday in the "NEVS Shanghai Industrial Base" in conjunction with the start of NEVS new car factory and innovation center in Shanghai.
In front of about 300 invited guests, a formal opening ceremony for "Tri-Network Initiative & NEVS Shanghai Industrial Base" was held in the G60 Science & Technology Innovation Valley in Shanghai Songjiang District on Wednesday morning.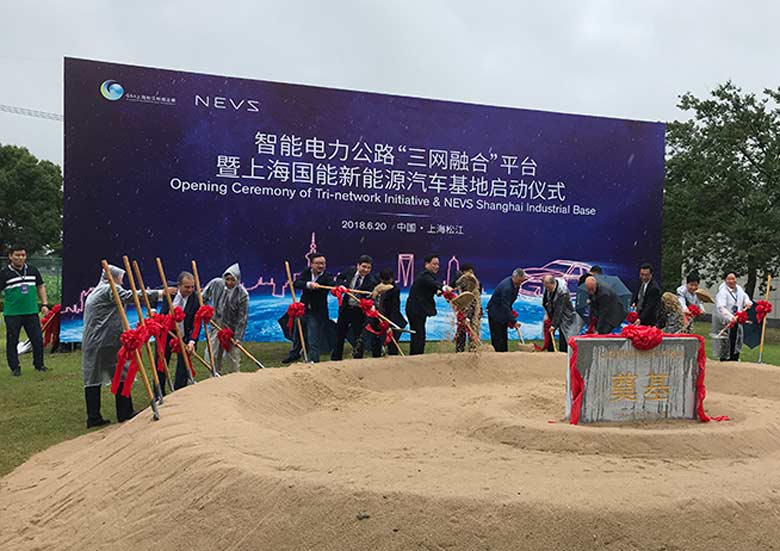 The fact that NEVS would build a new car factory in Shanghai has been known for some time. The idea is that the new factory will be something of a copy of what is currently being completed in Tianjin, not far from Beijing. Both plants will have a maximum production capacity of 200,000 cars annually, with 50,000 cars in the first stage.
The new car plant is only part of NEV's venture in Shanghai; On Wednesday, Tri-Network, the initiative of which was taken by NEVS main owner, Kain Johan Jiang, was presented together with other players in education, research and manufacturing.
Tri-network can be described as a whole new ecosystem with intelligent electrical pathways. By combining and exploiting resources in the region, NEVS will be able to start building the new ecosystem in China.
The idea is that the joint work on transport networks, energy networks and information networks will give rise to new ideas and new business models, which in turn can develop the entire electric vehicle industry. This business will be developed in the "NEVS Shanghai Industrial Base", which was formally opened on Wednesday.
Two important pieces of puzzles in this Tri-network are the skills of both Swedish companies Elways and Mimer, which Kai Johan Jiang and NEVS now will become partners in (see separate release).
Xiangmin Chen, Secretary of the Songjiang District Committee in Shanghai, one of several senior speakers, noted that the industry and development area of the G60 Science & Technology Innovation Valley in recent years has been extended to nine zones. The goal for Songjiang is to be a technology development engine in the Yangtze River Delta region, and that the region will lead the transition from today's "Made in China" to the future "Designed by China", ie much more than just manufacturing.
Xiangmin Chen explained that the Tri-Network Initiative and NEVS Shanghai Industrial Base is a very important concrete step towards the long-term goal of the G60 Science & Technology Innovation Valley.