As we wrote at the end of March, the company NEVS then launched its own car-sharing project, in the first stage only in Stockholm. It is about this project, but also other projects that NEVS company is working on in Sweden, – Swedish Automotive Magazine "Vi Bilägare" published an extensive article on NEVS mobility ECO system in the latest issue no 7, which is now available in shops in Sweden.
Journalist of "Vi Bilägare" magazine paints a cunning and thorough portrait of what is in the making at Nevs HQ. You can Read more about NEVS SHARE, NEVS mobility ECO system and more in the digital article, and below we give you a brief overview – what NEVS is preparing in the near future.
Self-driving cars project in Stockholm
As you probably already know, The Swedish electric car manufacturer NEVS wants to create an ecosystem of self-driving cars, which will facilitate both the individual and the environment. The first stage is a pilot project for car sharing in Hammarby Sjöstad, a part of the inner city of Stockholm, currently undergoing major urban redevelopment..
Also, as you know, many potential owners of the vehicles of the future are waiting for the Trollhattan factory to finally make a car for the market, some will say – whatever car. But, they will have to wait a little more. We are still left with only NEVS visions, with some projects in practice.
Self-driving and Electrification
Their vision basically does a city where all cars are self-driving and electrified.  A world with a new form of public transport? Right from the start, for some car enthusiasts who enjoys driving a car every day, this vision sounds awful to them.
The vision continues – Through an mobile app, you can order a car that takes you to work and you choose whether you want to share the tour with your neighbor or go alone. By the way, When you get in the car, a fresh cup of coffee is in the cup holder and you can devote your travel time to work meetings via Skype, or you can plan which snack should be in the car for your daughter when she goes to her football training later that day.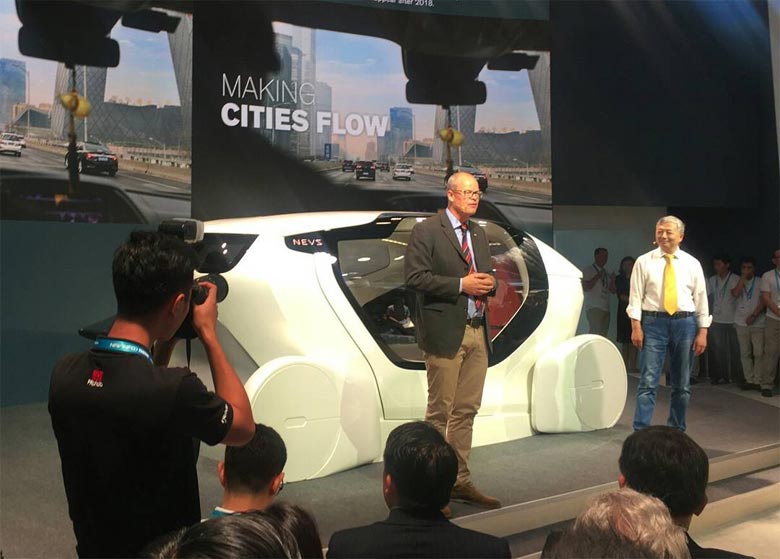 Let's move on, after that,  this same autonomous car leaves you at work and picks up an elderly lady who's on her way to the hospital. Once there, the car is plugged into the property and acts as an external energy storage so that the hospital does not have power shortages during the busiest hours. And so on, and so on …
This gives us more benefits:
much less cars are needed on the streets
the total traffic is smaller and all traffic is coordinated with traffic lights
less parking space is needed
the air is less polluted, there are more green areas in cities (zero CO2)
Although this utopia seems a long way off, some progress has already been made In the Stockholm suburbs.
About 100 people and ten cars have been involved in the project, which has been going on since November last year. Through the app "Nevs Share" the person who needs a car can post a request depending on when and how long you want to borrow it.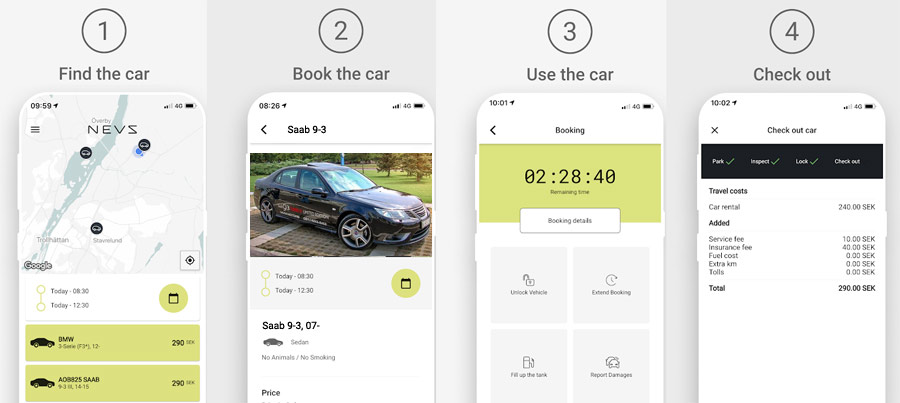 If any of the cars match the criteria, simply pay through the app and then pick up the car that is unlocked via the mobile phone. The cost is based on the size and model year of the car and how long it is used. Through the project, Nevs will learn what needs there are and what it is willing to pay for the service.
Autonomous Traffic and Lower costs
According to some estimates, such public transport, with all the stated benefits, should bring the user as much as 50% savings. As an end user, you no longer pay vehicle ownership costs, insurance costs, vehicle service costs, parking costs, travel costs and all other related costs, and you won't even pay traffic fines – because there simply won't be (the autonomous system takes care of overall traffic).
Car (Saab) Enthusiasts and Car Sharing
Yes, it sounds pretty utopian, and many companies are working with this same idea, and this is a future of public transport, but where is the place for strong car enthusiasts – fans of the smell of gasoline and speed?!
Are there places for car enthusiasts in projects like this? In fact – No. In this vision, you are not the owner of the vehicle, you do not drive the vehicle, you share the vehicle with others, and that vehicle has no special performance.
All of the above reduces the level of EMOTION, and that is crucial. If you lease a car, you are likely to have less emotional connection to it and are more likely to share it with others. Whole truth.
If these visions come to life, which is not impossible – car enthusiasts will no longer have a place in public transport, vehicle ownership will be too expensive, and driving performance or any other non-autonomous cars will be limited to private race tracks.
Can we call this an "car-utopia", well…