MapTun Performance, known Saab tuner, has developed the next generation of programming- and diagnostics and merged it with a new device that call Maptuner X.  The new unit is created specifically to be mounted in a vehicle in order to give the driver a good overview, in realtime, of how the vehicle is behaving.
This new product is coated with the right label "Made in Sweden" – it means that everything is made in Sweden  – mean ideas, brainstorming, programming, engineering, production, transports, marketing… everything that goes into making a complete product.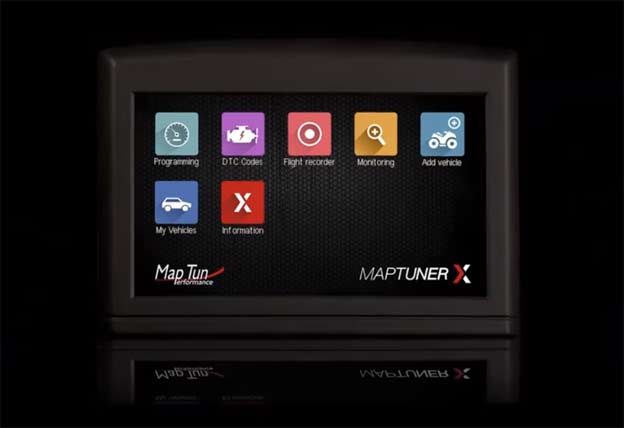 Maptuner X uses the ODB2 standard which make it compatible with almost every modern car. Since this is a unit that they will be using for their software products for many years to come they has put a lot of focus on performance. The operating system has to work swiftly and feel fast. When you boot up your Maptuner X for the first time you will be surprised on how fast it is up and running, most of your other devices will feel slow in comparison.
When you purchase the Maptuner X, a number of basic apps are pre-installed into the system.
These are the Tuning app which is used to tune a vehicle, Error-code reader which as the name suggests is used to find out what might be wrong with a vehicle, Add vehicle which is used to add new vehicles into the system that you want to work as well as en built in hidden feature called Remote Diagnostics which allows the staff at Maptun to diagnose your car in real time from a remote location.
And that's not all, in addition to the device Maptun offers the Maptuner X Sync service – a subscription service which is free of charge the first year and carries a cost of €20 per full year. Sync offers the owner of a Maptuner X to gain access to new apps, new versions and new functions within current apps as well as the latest updated version of ECU software purchased by the owner.
The price of the Maptuner X device is € 388,83 and €20 per full year .subscription.