India's largest utility vehicle maker, Mahindra & Mahindra is said to be interested in acquiring bankrupt car maker Saab in its latest bid to become an international auto giant, with a news report in its native Sweden saying the Pune-based group has evinced an interest in buying it.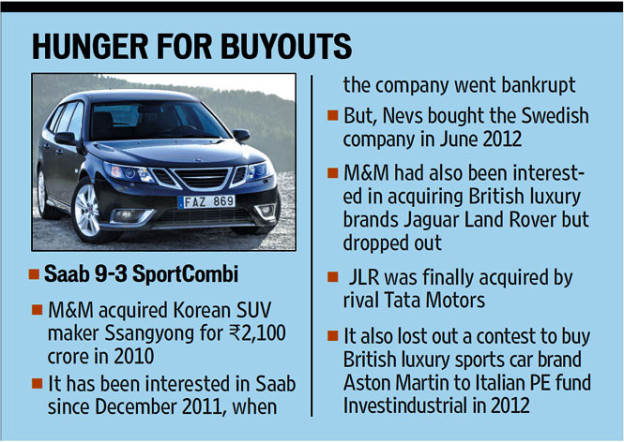 This would be the second attempt by the group that is showing strong international ambitions to buy the well-known brand that desperately needs funds. The unit was first sold by General Motors to Dutch auto company Spyker NV, which inturn sold it to current owners China's National Electric Vehicle Sweden (Nevs) in 2012 after Mahindra failed in the race.
M&M, whose annual sales are close to `40,000 crore, had acquired South Korean sports utility vehicle maker Ssangyong for `2,100 crore in 2010.
Chinese-backed Saab halted production last month for want of funds. Nevs said that one of the investors had not fulfilled contractual obligation to finance the operations.
Now, M&M is learnt to be getting ready to lend a helping hand and become a part owner of Saab along with Nevs. Swedish technology magazine Ny Teknik reported M&M is one of the two potential Asian investors likely to rescue Saab.
M&M refused to comment. "As a matter of policy, we do not comment on any market speculation," an M&M spokesperson said.
Nevs said in a recent press release that it has signed a frame agreement with a major international automotive OEM (original equipment maker) regarding a part ownership for cooperation in product development of the future platform., without giving details.
"The car market is much bigger than the SUV market globally. Buying a marquee brand will give it access to technology and a global brand recognition," said an automobile industry analyst.
source: hindustantimes.com