Unfortunately for all of us fans of the Swedish Saab, there have been no new cars from Trollhattan for almost 10 years. Yet from time to time, almost new, unused, or underused Saab cars appear on used car sales websites. And these are real pearls, as we know there are no new Saab cars, and there won't be any.
There is no single answer as to whether it is best to buy a new or used car. Often it is a matter of your finances. In the short term, it is generally cheaper to buy a used car than a new car. But in the long run, the math looks a little different.
However, the car we present to you today was a rarity and had a special value even when it appeared in 2008. When a new car leaves the car dealer, it has lost some of its value. But this Saab 9-3 Turbo X SportCombi that appeared on the German used cars advertising website has only 26 thousand kilometers on the clock, and the seller values it at € 40,000!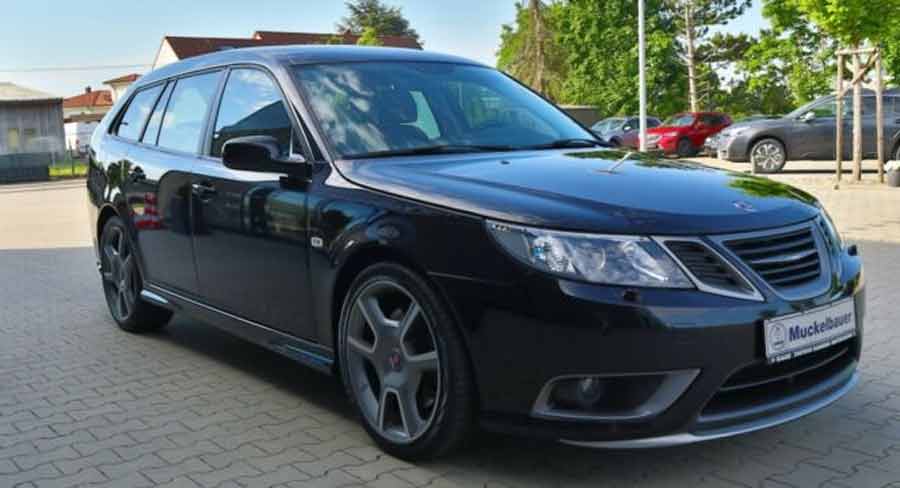 The advantage of buying a new car is that you get it delivered with a new car warranty. Therefore, for several years, you only have to pay service costs. But in the case of this Saab 9-3 Turbo X, despite its high price, there is no special guarantee, and maintenance costs can be high. However, this can be a collector's item, and apparently, the price of this car will only grow.
SAAB 9-3 TURBO X, one of two thousand in absolutely top condition!
Here is some information related to this particular Turbo X sold by the German car dealer house from Bamberg. The car was delivered in Belgium and transferred to Germany in October 2012. All original documents with COC and also a German operating manual with a German service booklet are available.
The vehicle has been regularly technically and visually serviced, stored UV-protected, so it can be said that this Turbo X is in an exceptional collector's condition. The vehicle is sold privately to the exclusion of any liability for material defects, but at least at first glance, there are no flaws here – just as if he left the factory yesterday.
This SAAB 9-3 TurboX Sport-Combi Automatic MJ2008 has the following special options in addition to the extensive standard equipment:
Exterior Color Jet Black metallic color code 298
Premium leather TurboX code B51
19-inch Turbo X rims,
el. sliding glass roof,
Adaptive BI-Xenon headlights with cornering function,
Alarm system,
Foldable exterior mirrors,
Rain sensor,
Inside and outside mirrors can be dimmed automatically,
Business package 300: Navigation system, BOSE sound system with subwoofer, integrated speakerphone UHP,
Heated front seats,
Rear parking sensors,
"Privacy" glass, slightly more tinted windows,
TurboX delivery package original SAAB and other documentation available.
and much more.
Wherever you are, and you have enough money but also interest, this can be an ideal opportunity to get to the almost new exclusive Saab 9-3 Turbo X.